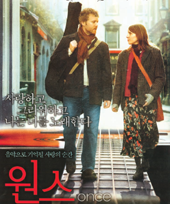 In a little musical instrument shop in Ireland, a woman playing piano and a man playing guitar sing songs. They don't know each other, but they share two things very certainly: they love music and can play a musical instrument. They make beautiful harmonies even though there are no people listening to their music. Later, the woman and the man meet again and they pour all their energies into making a recording in a small recording booth for their first album. Those two moving scenes are from the movie
Once
, which I saw on November 3.
A few days later, when the deep impression of
Once
had faded, a big thing happened that gave me an enormous shock. At midnight on November 10, KBS broadcast Gee Chun-hee's special fashion show to showcase Paik Nam-jun's achievement. The fantastic fashions, which mixed splendid video art with the models' cat walking skills, were wonderful, but didn't capture my attention absolutely. Before the beginning of the fashion show there was a performance by LDP, a dance team. They performed "No Comment" passionately. When I saw their ten-minute performance on the screen, I felt a huge impact as if someone had beaten my head strongly. The ten men with shaven heads showed powerful and dynamic movements. All the actions of the performance contained their passion and emotion for dancing, which I can't explain with words. Maybe the men's happiest and most passionate moment was that moment on stage. Maybe the moment the man and woman sang a song or played a musical instrument was the most impressive and happiest moment in their lives. I certainly believe that.
What then, has been the happiest and most impressive time in my life? Although I can't say I have passed much time in my life, I am certain I have experienced many impressive and exciting things and have spent my happiest times at the
Keimyung Gazette
. Of course, my whole time with the
Gazette
was not entirely pleasant, and I made a lot of mistakes and had troubling times for a while; however, I'm very happy and thankful that I poured all my energies and youth into the
Gazette
. Now I realize that it was a very blessed thing and a miraculous experience to dedicate all my passions for something while young. If you're determined to pour your youth and pure passion into your dream, I think that is the happiest time for you. If you experience a terribly hard time, I want to say, "Cheer up and put your energies into it a little more" because the hard and troubling moments will become the most cherished times and will become a very worthwhile experience someday.