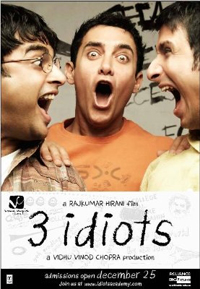 Directed by Rajkumar Hirani
Genre: Comedy
Starring: Aamir Khan, Kareena Kapoor
160 min.
At the starting point of the new semester, I recommend a movie that has a lot of humor and can move you. 3 Idiots is an Indian movie that describes three university students' dreams, growth process and friendships. The movie doesn't have any special computer graphics, but it gives special messages to us.
The main characters are the 3 idiots, Rancho, Farhan, and Raju, and the university president. They have special and comic personalities. Rancho is the most comical character in the movie, and he has a positive personality and loves engineering. He regards his friends' problems as his own problems. His friend, Farhan, enters an engineering university because his parents force him to study engineering. Therefore, he had to give up his dream. Similarly, Raju enters an engineering university because of his desire to support his poor family. There is also a university president, named Virus, who is pursuing only success and honor.
3 main characters are called 3 idiots despite belonging to a prestigious university. The reason why they are called 3 idiots is that they do incomprehensive acts from the point of view of President Virus. Also, they are different from the other students because they act however they want to. The scene in which the 3 idiots provoke Virus can make us laugh.
Raju and Farhan learned a valuable thing from Rancho. At first, Farhan was cowardly with regards to the future, but he overcame his fear thanks to Rancho, and so he was able to go his own way. Raju also had belief in the future. We can ask ourselves, "What is the thing which I truly want to do?" This movie delivers heavy topics, but we can enjoy them through the 3 idiots, while comedic scenes make us comfortable and relaxed.
There is an attractive expression in the movie. You can see many times in the movie that Rancho says, "All is well." This expression is used when Rancho is facing a big problem. It makes people who have lost hope, energy, and their goals motivated. After watching the movie, you might find that you also say, "All is well."
If you don't have confidence in your work or studies, I highly recommend this movie to you. I would like you to have conviction in this movie. 164 minutes is long but it felt short while I was watching it. At the starting point of the new semester, how about enjoying this good movie?