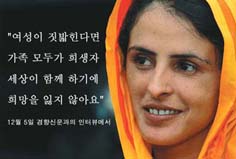 The 4th Educational Broadcasting System International Documentary Festival was held from August 27 to September 2. I was honored to be selected as a special judge to watch, review, and rate twelve documentaries. It was a very worthwhile experience, and I was very happy to see the twelve documentaries. All the documentaries were excellent and impressive, but I want to introduce you to the one movie,
Shame
.
Mukhtar, a Pakistani woman, was publicly gang raped by members of a higher class in 2002. The attackers said it was punishment for Mukhtar's younger brother dating a woman of their class. A public gang rape is a vicious crime and obviously a shame a woman never forgets. Unfortunately, there are many victims of public gang rapes in Pakistan. Furthermore, her family and fellow villagers didn't want the rape to be known to the general public because they considered it a shameful dishonor. However, instead of staying silent or killing herself, Mukhtar choose to speak out about her suffering to the police, reporters, and even the prime minister. Mukhtar insisted that her attackers should be punished. Moreover, she founded a school for women who are denied an education. In doing so, this courageous woman become an international human rights activist.
Shame
shows what real courage is through her courageous determination.
On the other hand,
Shame
also shows how hard it is for truth and justice to put down roots in society. The most heartbreaking part of her story is the cold view towards her expressed by the government and villagers. The Pakistani government would like her to remain merely a symbol of a strong woman who overcome prejudice, but not a world famous human rights activist. I was heartbroken to see that Pakistani society still considers victims as weak people who are disgraced and shamed.
A few months ago, 23 Korean missionaries were kidnapped in Afghanistan. That raised many issues in Korea. Maybe they went to Afghanistan for their faith and honor like Mukhtar. However, we know that faith and honor can be acknowledged within society's acceptable activities. Let's consider why people admire Mukhtar's action as a heroin, but don't admire the actions of the 23 Koreans, even though they both acted according to their faith. The Koreans didn't assume responsibility for their actions. Mukhtar proclaimed her innocence and Pakistan's unfair system to the world, and has constantly shown responsible behavior. If you have done something, you must not avoid responsibility for your actions. That is real courage.