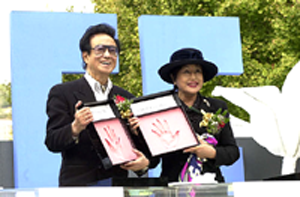 Shin Sang-ok is well known as the husband of Choi Eun-hee, a star actress in the 1960s, and he was a director that created new style movies for the first time in Korea. He made many hit movies, for example,
Sung Choon-Hyang
,
My Mother and Her Guest
, and
The Red Muffler
, in the 1960s. He died on April 11, 2006, leaving his last film
Winter Story
.
Shin Sang-ok founded the first Korean film company, Sheen Film, in 1966. Many 1960s' movies were created by Sheen Film, and it has modernized Korean movies. He led a renaissance of Korean movies with the directors Yu Hyun-mok, Kim Soo-yong, and Kang Dae-jin in the 1960s. There weren't various genres from the 1920s to the 1950s until his debut movie The Evil Night in 1952. He made various genres for the first time: horror movies (
Snake Lady
in 1969,
A Thousand-Year-Old Fox
in 1969, and
A Ghost Story of the Joseon Dynasty
in 1970), romance and comedy movies (
A Romantic Papa
in 1960 and
Romance Grey
in 1963), action movies (
The Red Muffler
in 1964), historical dramas (
The Tyrant Yeonsan
in 1962 and
Prince Daewon
in 1968), and period dramas (
Evergreen Tree
in 1961,
Sung Choon-Hyang
in 1961, and
My Mother and Her Guest
in 1961).
He not only tried to make new genres but also to express unique dramatic composition in the new genres. In the case of
The Red Muffler
, he shot an action scene of a jet fighter with a camera set in the jet fighter. Nobody tried to make action scenes like this at that time and many other countries applauded the action scene.
In The Flower of Hell
, he created a femme fatale for the first time in Korea, and many people were surprised. In addition, a chase scene in the movie showed daring dramatic composition.
In the middle of the 1960s, Korean movies were hardly nominated at the Asian Film Festival. However, Shin won the best picture and best director awards at the Asian Film Festival four times. He took charge of the jury at the Cannes Film Festival in 1994 and the Deauville Asian Film Festival in 2002. In addition, Choi Eun-hui won best actress for his film
Salt
at the Moscow International Film Festival in 1985.
Shin Sang-ok and Choi Eun-hee were kidnapped by North Korea in 1978, but they escaped from North Korea after eight years. She said to Money Today's reporter, "I think we were kidnapped because North Korea needed us to make films. Therefore, the North didn't kill my husband even though he tried to escape four times."
Love Love My Love
(the musical version of
Sung Choon-Hyang
),
Runaway
, and
Salt
are his representative works during eight years in North Korea. In
Salt
, he made a new way to record by putting the actor's action and voice together for the first time in North Korea.
Shin lived in America for ten years after escaping from North Korea. He founded Sheen Production in America and participated in the making of the
3 Ninjas
series, a big hit movie for children, in Hollywood. He produced
3 Ninjas Kick Back
in 1994 and directed
3 Ninjas Knuckle Up
in 1995.
To commemorate his achievements, Puchon International Fantastic Film Festival made the "Fantastic Shin Sang-ok Prize" in 2006, and Hollywood is planning to make a movie about his life. It is no exaggeration to say that Shin Sang-ok was one of the best directors in our movie history. He directed 72 films and produced 118 films in 52 years. As Seo Tea-ji showed new music including dance, rap, and hip-hop to the general public in the early 1990s, so Shin Sang-ok showed new movie genres including horror and action movies in the early 1960s. Both people have a common feature. That is they tried to make new things and developed new things for a long time. However, what we surely know is they had passion and stubbornness for their job. Choi Eun-hee said, "My husband was crazy about movies. He always read screenplays everyday. He only thought of movies."