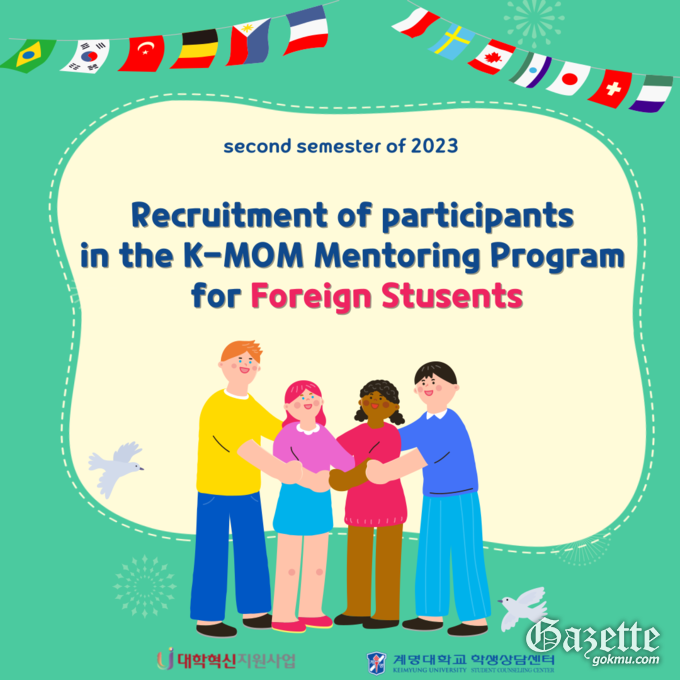 KMU is recruiting participants for the K-MOM mentoring program for foreign students. The recruitment targets are mentees and mentors. As mentees, foreign students attending KMU are recruited, and students in sophomore or higher are recruited as mentors. As a mentor, students who can speak foreign languages such as Chinese and English are given preferential treatment, but it is okay if they cannot speak foreign languages. In addition, KMU wants to recruit students who can participate in all meetings and team meetings.
The recruitment date is from August 21, 2023 to September 8, 2023, at 5 p.m. How to apply for this mentoring program is to submit application documents by e-mail(sujin2@kmu.ac.kr). There will be a selection process to match mentors and mentees through document screening and interviews. Detailed schedules and announcements of successful applicants will be notified individually. The mentoring program period is from September to December 2023. All meetings are scheduled from 1 p.m. to 3 p.m., respectively, with Team A on Tuesday and Team B on Thursday. In addition, there are meetings of all mentoring participants once or twice a month. Participants receive 150,000 KRW in activity support funds for each team and receive 10 COMpassK points. Please refer to the attached file for the application form and details. For more information about this program, you can contact the K-MOM(Keimyung-Mind care Of Minority) department of KMU at the Student Counseling Center(053-580-5812).
Students who participated in the K-MOM mentoring program for foreign students left various impressions. The impressions left by the students who were mentees in the previous program were as follows. One student said that the program helped him make Korean friends and helped him a lot when he studied. Another student said she thought it was a good program because she learned a lot about Korean culture. Students who were mentors before said that it was time to understand and respect each other's language and culture.