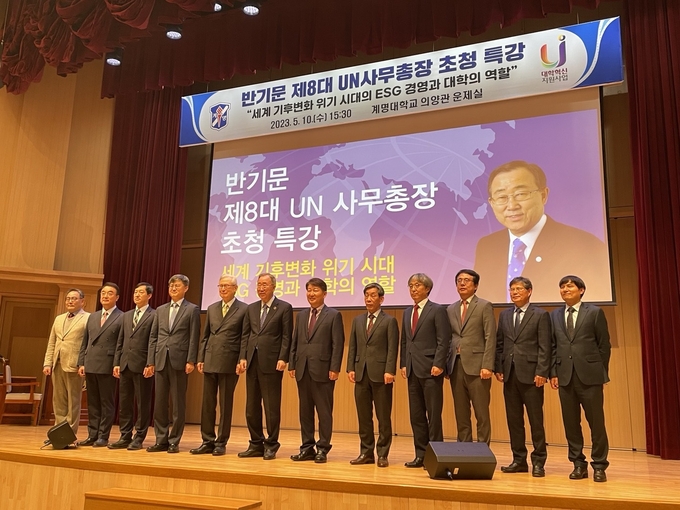 On May 10th, 2023, Ban Ki-moon, the 8th Secretary-General of the United Nations, was invited to give a special lecture on ESG (Environmental, Social, Governance) management at Keimyung University's Ui-yang Hall Un-je room. This special lecture was held under the theme of ESG management and college life during the global climate crisis. In addition, this special lecture was held at the request of Keimyung University, which introduces and practices ESG management.
Former Secretary-General Ban Ki-moon said there were three major policies he pursued during his time as Secretary-General of the UN: the Paris Climate Change Convention, the Sustainable Development Goals, and women's human rights. In addition, he stressed that the climate crisis is the biggest problem we face today, so governments, businesses, and citizens, should aim for carbon neutrality, RE100, and ESG management, and try to solve the crisis with conviction. In addition, he mentioned that education can help the world people and countries.
Ban Ki-moon served as the secretary-general of the UN from 2007 to 2016. Since 2019, he has been chairman of the National Climate and Environment Committee and has been making efforts to solve climate change and environmental problems based on cooperation with neighboring countries. Also, with the aim to create a better future, he is trying to solve global conflicts, disasters, hunger and disease problems as chairman of the Ban Ki-moon Foundation.
Keimyung University promised to actively practice ESG management by introducing ESG management to contribute to the community and sustainable development from 2022 and setting the goal of opening light to humanity and the region through the practice of cleanliness, honesty, and reduction. Through this, the university will play a role in making eco-friendly energy-saving living, realizing socially responsible values, transparent and ethical responsibility management in the community, and open and operate related education and civic academies in the future.