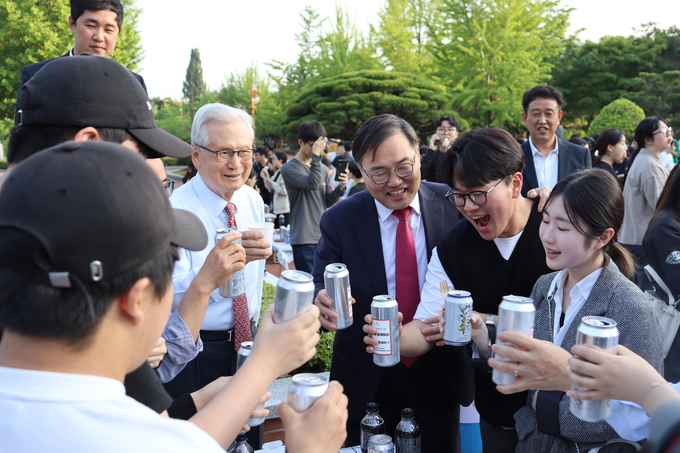 On May 19th, 2023, Keimyung University held a Chicken & Beer Garden Party where Keimyung University's professors and students, including the president, could mark the 124th anniversary of its foundation. It was held in the square in front of Keimyung University's Seongseo Campus Dongsan Library.
The event was attended by lawmakers Hong Seok-joon and officials from the Daegu-Gyeongbuk International Exchange Council, including Keimyung University President Shin Il-hee, school corporation Keimyung University Chairman Kim Nam-seok, and corporate executives. They and about 700 students from Keimyung University gathered. Together, they celebrated the 124th anniversary of Keimyung University by eating chicken and beer along with a celebratory performance prepared by students of Keimyung University's Department of Music Production band.
Chicken at the Chicken & Beer Garden Party was sponsored by Genesis BBQ, which signed an industry-academic exchange agreement with Keimyung University. In addition, Lee Jae-ha, president of Keimyung University's alumni association, donated 800 cans of beer for his juniors. At the event, which was held for the second time since last year, there was an opportunity for Keimyung University students and President Shin Il-hee to talk together in person. During this event, President Shin Il-hee said, "I am happy that all the family members of Keimyung gathered in one place to celebrate the 124th anniversary of Keimyung University. I hope this party will be a place for students and professors to enjoy together and harmonize with each other," he said.
Earlier in the day, a ceremony was held at the Seongseo Campus Adams Chapel to mark the 124th anniversary of Keimyung University. At the ceremony, awards and celebratory performances were held, including the Keimyung Geumjang, the Bisa Professor Award, the Achievement Award, the Excellence Award, the Keimyung University Publishing Culture Award, and the Keimyung Industry Research Award.