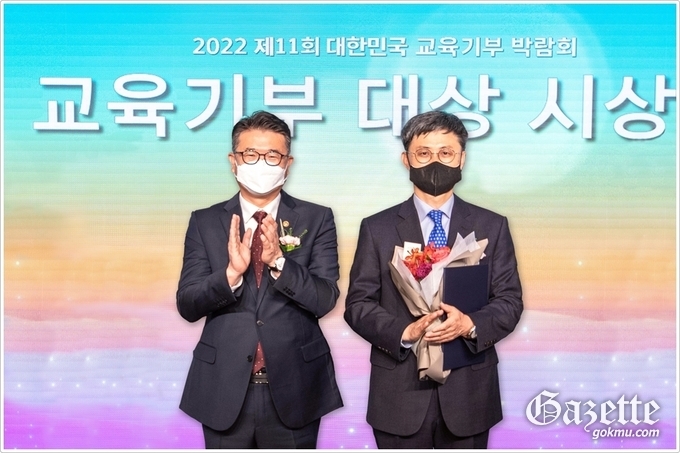 On October 7th, 2022, Keimyung University won the Korea Education Donation Award(KEDA) for its contribution to the community through educational donation activities at the 11th Korea Education Donation Expo. This is the second time Keimyung University has received this award since 2019.

The Korea Education Donation Award is a prize given by the Deputy Prime Minister and Minister of Education to create an atmosphere of spreading educational donations by discovering outstanding organizations, and individuals who have contributed to revitalizing educational donations. Starting with overseas volunteer activities in 2002, Keimyung University has developed a policy of social service and educational donation that meets the principles of construction and educational goals. It contributes to community contribution by developing and supporting a number of educational donation activities, including major convergence innovation industries (EUP), mentoring projects, and educational services for the underprivileged.

The core strategy of Keimyung University's educational donation service is to contribute to the community and strengthen personality education through volunteer activities and educational donations with its neighbors. In order to subdivide and implement social service education and activities for each strategy, the president's organization Daegu Gyeongbuk Social Innovation Support Stage Name Caritas Service Center was established. As a university innovation support project, the university plans and discovers regional innovation programs through its human expertise and physical infrastructure to promote integrated major innovation projects. In addition to this, 26 teams are organized across five categories, including the spread of the spirit of humanities, multiculturalism, support for the vulnerable, elementary, middle and high school education, improvement of the local environment, and volunteer work.

Keimyung University believes that community dedication for the past and present is service and community dedication for the future is innovation and that universities should actively innovate for the future of the region. The social responsibility given to universities has been prescriptively defined under the mission of education, research and service. Recently, however, the concept of service has been removed and social innovation has been recognized as an extension of service by creating new values in the community through social responsibility and solidarity with universities.

Shin Il-hee, president of Keimyung University, said, "I feel honored to receive the Korea Education Donation Award. It is time to communicate with the community and grow and develop with the community. We will do our best to share the resources and capabilities of Keimyung University with the local community, innovate the region through solidarity, and develop with the region."