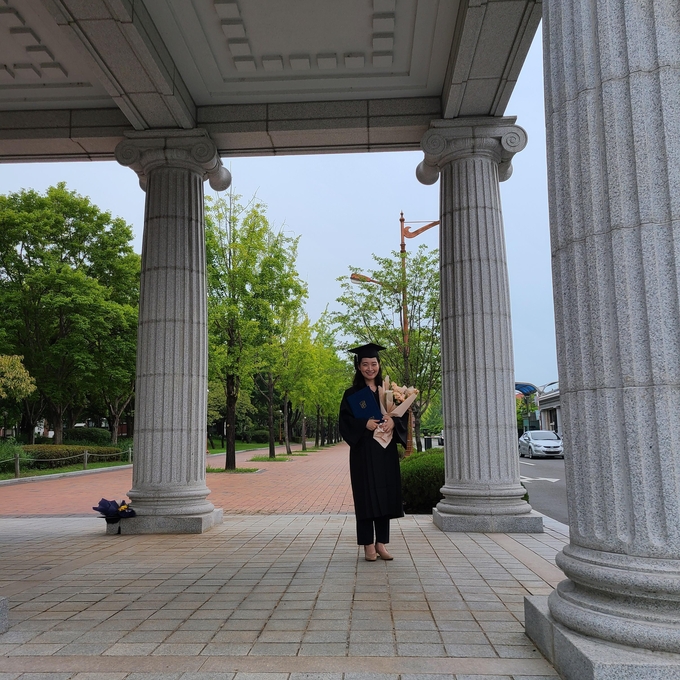 1. Please introduce yourself.
My name is Choi Hwa-yoon. I recently graduated from the Department of International Relations of Keimyung Adams College. Recently, I finished a 5-month internship in a Big Data team at Korean Trade-Investment Promotion Agency, KOTRA.

2. Could you tell us about your job as an intern?
- I worked in the Big Data team for five months, from March to July. The main task that I did was related to the website called Tribig, which is created by KOTRA to assist Korean corporates to engage in trade more easily. The prime function of Tribig is the match Korean corporates with foreign corporates according to their needs and interests, using big data analysis programmes. Previously, if a Korean corporate wants to find a foreign buyer, it had to research on its own. Tribig uses big data analysis techniques to find perfect buyers manually, according to the requirements set by the corporates and saves a lot of time and budget. As it is relatively new, my prime duty was to advertise it and to answer inquiries about it on the phone. I often went to the KOTRA exhibitions and ran a promotional booth, explaining it and collecting user reviews. I also designed other advertisement materials for the team's projects and assisted planning of other events.

3. What were the advantages and disadvantages of the internship?
- The amount of work assigned to me was both advantage and disadvantage of this internship. I had so much work to do. Unlike most public enterprises, KOTRA loads interns with tasks to do. As I completed those works, I felt my competencies developing. However, I was completely exhausted by the end of work each day. It had both positive and negative sides to it.

4. You applied for this internship several times but failed before. What made you continue applying for KOTRA?
- As an International Relations student, I was interested in official development aid and economy. Later, I leaned more towards the economy and trade assistance for medium-sized corporates particularly. For that reason, I always had KOTRA in mind as a career aspiration, but I wanted to see whether it is a perfect fit for me, before becoming a regular employee. That is why I wanted to do this internship badly. So, I applied for this internship 5 times and was unaccepted the first four times. But I did not give in because I refused to yield. After failing four times, I tried harder out of spite.

5. Did you have any skills or points that you focused on to prepare for it?
- While seeking to be accepted as an intern at KOTRA, I made sure that my work experience and skills look consistent. I chose to trade as my career target and focused on taking courses or extracurricular activities about trade. For example, I was an honorary ambassador for Korea International Trade Association. I also participated in a programme called Youth Trade Academy. Experiences like these prove my consistent interest and effort to engage more in trade and may be appealing to employers. Therefore, I think it is important to have a keyword that connects my experiences as a whole series.

6. What did you think while doing an internship in KOTRA?
- During the internship, to be honest, I thought that I may want to work in private corporates, too, other than public corporates like KOTRA. What I felt about the public corporate during the internship was that it does not let the newcomers use their creativity. And if I ever want to use my creativity and plan for a project, I felt that I will be allowed if I become a team leader or a section chief. I felt that only then I will be able to do some creative projects with independence. It is not about KOTRA only. It is a general characteristic of public corporates in Korea. I consider myself a person who loves to make creative project plans and realise them. Therefore, I thought that I may find this corporate culture not so motivating if I become employed as a regular employee.
- But I liked that KOTRA has its overseas FDI networks all across the world. It is a unique characteristic of KOTRA that they have many overseas posts, like the Ministry of Foreign Affairs has Korean embassies abroad. And the employees are dispatched to one of these trading posts and move around every three years, regularly. Because of such a working environment, KOTRA supplies the employees with relocation costs. Of course, you cannot choose which country to go to; I thought that I would enjoy that. The employees I met during the internship also seemed very satisfied with it. And I thought that it would be fun and meaningful to have a job like that.

7. Then, what was the impression that you had at the end of the internship?
-
At the end of the internship, I had an impression that my competencies have been improved. When I did an internship at the Korea Chamber of Commerce and Industry, I could feel that I am getting used to the corporate culture, but I could not notice my competencies developing. By engaging in a variety of projects and resolving issues, I also felt that I grew as a person, too. I now have self-confidence that I could succeed in anything.