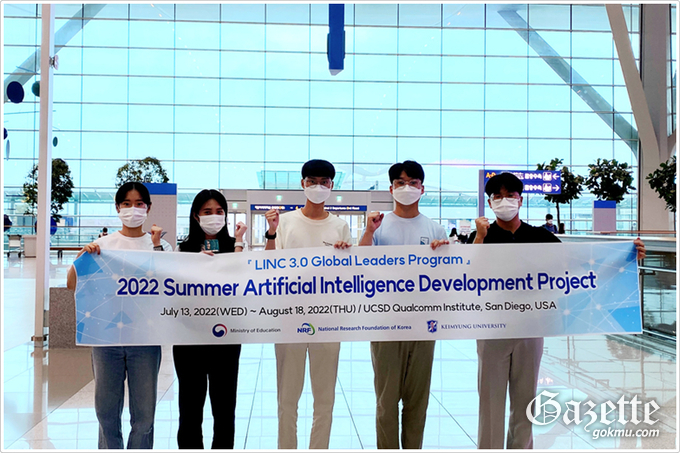 Five students from Keimyung University were dispatched to a field training program at Qualcomm Institute, a world-renowned communication chip manufacturer. The Qualcomm Institute is a research and business support organization founded by the state of California and located on the campus of the University of California, San Diego. The overseas training program had been temporarily suspended due to COVID-19 but has recently resumed.
The field training program, which conducted by Keimyung University's Industry-Academic Human Resources Center as part of the LINC 3.0 project, held at Qualcomm Research Center located on the campus of San Diego, California, for five weeks from July 13 (Wed) to August 18 (Thu). Students participating in the overseas field training were selected after a strict screening process.
The core aim of this field training program is to provide an opportunity for students to participate in an AI (Artificial Intelligence) development project in connection with the 4th Industrial Revolution. Students participate as actual researchers in projects carried out by local research institutes and experience specialized projects related to artificial intelligence.
The course consists of theories and practical technologies that can improve the processing and analysis of big data, through which students learn QI's professional technical education and big data collection and analysis, modeling, and visualization. Students participating in the program take the lead in the assignments and practices given, solve problems through Office hour with the instructor in charge, and learn about the field by presenting their tasks and receiving feedback each week. Instructors from the institution will receive a program certificate under the name of the head of the QI Institute for students who successfully complete the project by preparing and synthesizing individual report cards in consideration of project performance scores and language skills.
youjin3002@naver.com