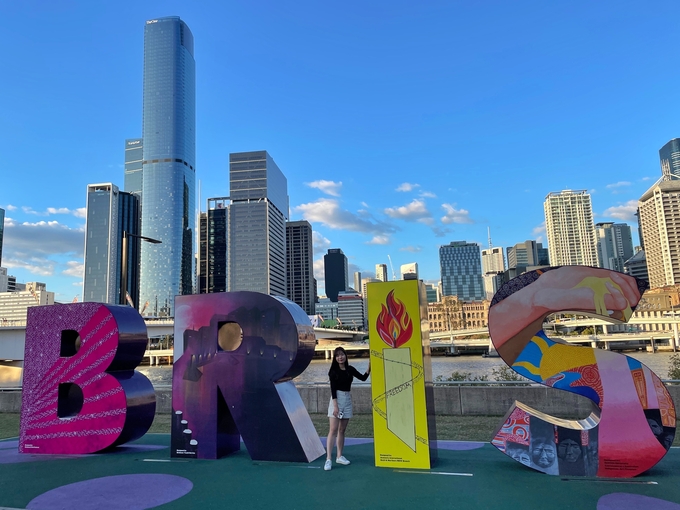 We have reached out and did an interview with a senior in KMU, Su-hyeon Jeon. She is one of the top students who ceaselessly endeavours to improve her competencies. This time, she went to Australia by a great opportunity. She shared her experience thankfully.

1. How is the weather in Australia?
- As Australia is well-known for Christmas in summer, the weather here is opposite to Korea. I'm enjoying relatively warm winter days in Brisbane, a city famous for desirable weather and living conditions.

2. Did you get used to the Australian lifestyle well?
- I got used to life in Australia very easily because it is a country full of multicultural diversity. Despite being overseas, I could easily spot Korean restaurants whenever I missed Korean cuisine. Also, the public transportation system is convenient, and the general atmosphere of the city is based on being green and eco-friendly. Given all these, I considered that this is a great place to live a comfortable and relaxed life.

3. Can you introduce the program that took you to Australia, please?
- I came to Australia as a participant in the Blue Ladder project, which is run by the Korean Student Aid Foundation. This project provides the experience of studying abroad for university students who have dreams and a passion for self-development and career building. When selected, students are given the chance to study at a foreign university for four weeks. The foundation also provides them with tuition, round-trip airfare, and accommodation for those four weeks. The foundation committee selects the students through a detailed examination of their application documents and interview. Moreover, as the program is not simply about sending students abroad, the foundation helps the students improve their competencies during prior training sessions, the four-weeks long overseas study, and the follow-up supervision after coming home.

4. What is the reason that you applied for this program?
- I had three reasons. First, I wanted to have the experience of staying in an English-speaking country. Before this, I have never been to an English-speaking country in my life. So, I chose Australia when I applied for this program because I wanted to improve my English skills while speaking English in daily life here. Second, I believed that more experience of being overseas is good for me – the more the better. I aimed for earning the most varied experience I could because learning about different viewpoints and cultures helps me expand my horizon. Third, I hoped to go abroad as I used to before the pandemic. Before the COVID-19 pandemic, I was lucky enough to be given chances to go abroad almost every year. The pandemic, however, deprived me of chances to go abroad and explore. Therefore, I did not want to miss this chance.

5. So the main focus of the program is overseas study. Were there any memorable events during your studies or cultural exploration?
- The session about Australian slang and abbreviated words was memorable. They use a lot of slang and abbreviated words in Australia. An Australian man said to me, "Australia is not the best country to learn proper English because of the countless Australian slang." That was all the more interesting since schools make sure that they teach Australian slang. For cultural exploration, I remember visiting the Lone Pine Koala Sanctuary in Brisbane. I could see the koalas and kangaroos with my bare eyes, which I could not do so easily in Korea, and I realized how environmentally friendly the country Australia is once again.

6. Now that the program is coming to an end, please tell me your thoughts about the program.
- Living in Australia has been a chance for me to open up further again. Before coming here, what came to my mind when I thought of Australia was simply a country where many people go on working holidays and racism caused by the White Australia policy in the past. However, I could say that Australia is a country that values diversity more than I thought. Also, looking at the immigrants living in Australia for a better life reminded me that there are many options in life to choose from.

7. Would you recommend this program to other students?
- Yes, I would. It gives you the environment to develop your competencies through prior training sessions along with the opportunity to study abroad. The four-week English language courses also improve your English capability. By socializing with students from other universities, you can recognize your strengths and weaknesses. As they say, there is no useless experience, I think that there are many things to learn if you participate in this program.

8. Lastly, please share your advice for the students who want to apply for the Blue Ladder project later?
- For the application process, I think it is important to emphasize three points for the group project that you will do. The first point is how enthusiastically you've researched the country you are applying for. The second point is how you will graft your major into the group project. The third point is what role you can play in corporate life. If you can highlight these three points, I believe that you will be selected. I also would like to advise you to have experience of your own. It will promote your personal development in varied experiences, more than simply following the events scheduled by the school.