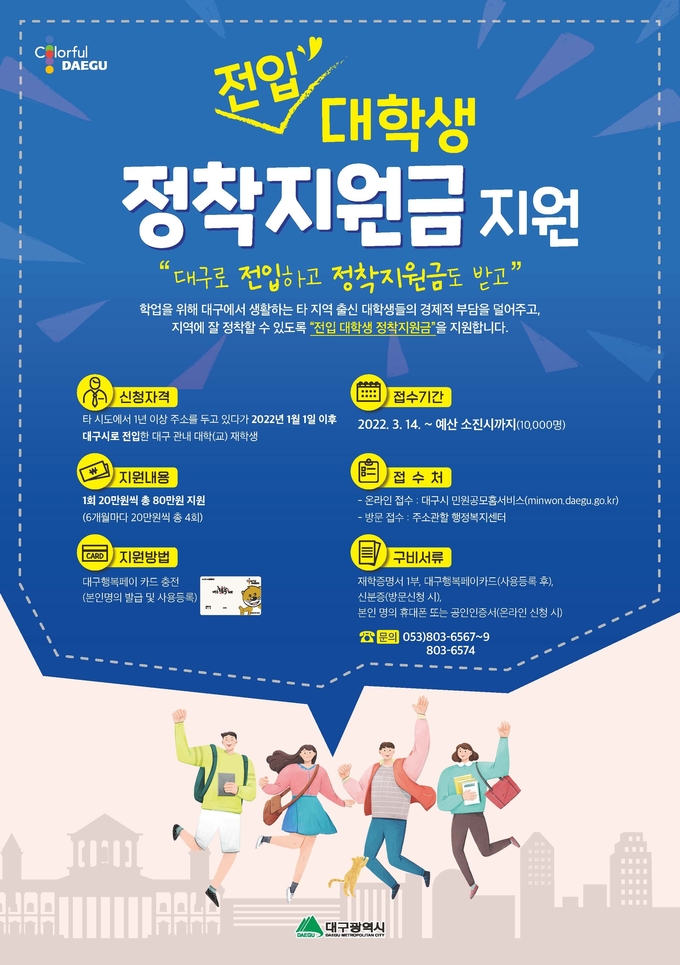 Daegu Province is currently providing resettlement aids for those who came to Daegu from another city to study to lessen their financial pressure
and help them to adapt well. Qualification for appliance is that one has to have their address registered in another province at least for an year and
then moved in to Daegu and study in university in Daegu after Jan 1st 2022. The aid will be provided by 200,000 won every 6 month for four times,
800,000 won in total. The money is not provided by cash but points will be supplied through Daegu Happy Pay Card (대구행복페이). It cannot be
withdrawed but can be used same as cash in Daegu. Those who don't have Daegu Happy Pay Card can make one easily at any Daegu bank. In
order to apply for the resettlement aid, two ways are possible: one is to apply online in minwon.daegu.go.kr or to apply in administrative welfare
center in one's residence area. Required documents when applying are: proof of enrollment, Daegu Happy Pay Card (registered), ID card
(when applying by visiting the center), one's own cellphone or online certificate (when applying online). The aid program started at March 14th 2022, and it is allowed for only 10,000 students in order of appliance. Further questions can be asked through: 053)803-6567~9 / 803-6574.
abcysl@gmail.com