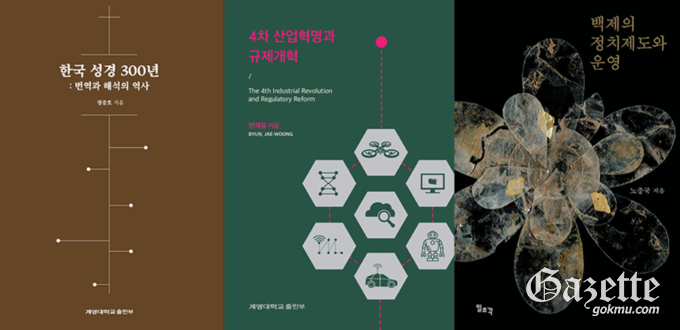 Three types of books written by Keimyung University professors were selected as the "2022 An Excellent Academic Book of the National Academy of Sciences." From March 2021 to February 2022, the Ministry of Education and the National Academy of Sciences selected 300 an excellent academic book after reviewing the fields of humanities, social sciences, Korean studies and natural sciences. Among them, the three books were written by the professors at Keimyung University
The selected book by Keimyung University professor is "Korean Bible 300 Years: History of Translation and Interpretation" by Professor Jung Joon-ho of Department of Christian Studies in the field of humanities. This book discovers the history of the Bible translation and interpretation of the Bible for more than 300 years (1600-1900) hidden behind Koreans' love of the Bible, and the fact that there was a dawn before that. Following the book is "The Fourth Industrial Revolution and Regulatory" by Byun Jae-ung, a professor of Department of international commerce in the field of social science. It studies the correct direction of government policies related to the Fourth Industrial Revolution and the need for regulatory reform, and provides solutions to inform students, ordinary people, policymakers, civil servants, and entrepreneurs of related studies. Finally, "The Political System and Management of Baek-je" by Professor Roh Jung-guk of the history in the field of Department of Korean studies. The "Political System and Operation of Baek-je" focuses on how the political system of Baek-je was created, operated, and changed.
The publishing department of Keimyung University was established in 1969. Therefore, it has published more than 1,000 kinds of books, including specialized academic books, majors, and educational materials, and is actively selling them on the market. In addition, the publishing department of Keimyung University is steadily selected as an excellent academic book by the National Academic of Science every year, which is attracting a lot of attention from the public.