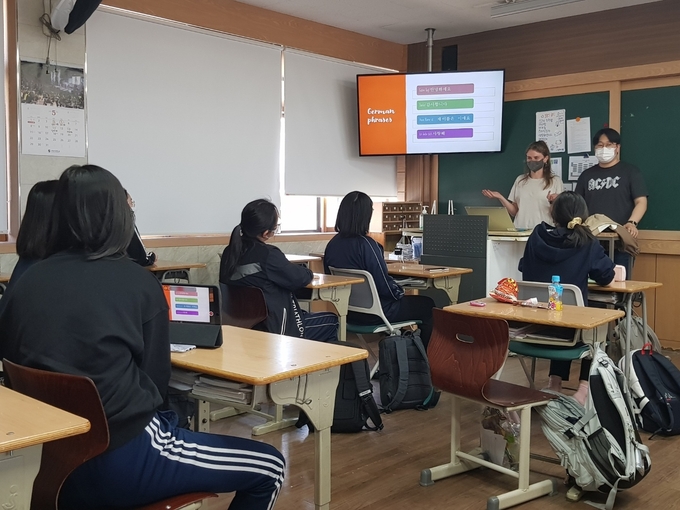 The Keimyung University Cross-Cultural Awareness Programme (KMU-CCAP) is a programmes held by the Center for International Affairs. The Center for International Affairs set up several groups consisting of a Cultural Exchange Volunteer (CEV) and a Korean Interpretation Volunteer (KIV) to send to schools throughout Daegu. The CEV groups consist of foreign students, Mostly Exchange Students. Each group prepares 1-hour lecture about the country that the CEV's members are from in English or the CEV's member's native language such as German or French. The CEVs give a lecture and the KIVs translate words for the school's students. Through this programme the CEVs can introduce their culture to school students and the KIVs can get important experiences being an interpreter while the school students can learn the language and culture of diverse countries and set a goal for their future.
One of the CEVs, Sandrina Dejbus, said,: "iIt was one of the best and most unforgettable memories in Korea. I was excited to learn more about Korean culture and also share cultural aspect of my country, Germany." YongJoo Kim, a pariticpating member of a KIV who participated in this programme 5 times already, said,: "This programme is the one I love most. I learned a lot from the program. Additionally, if you dream of being an Interpreter in the future, this programme would be helpful."
For this semester, the application date has passed but the KMU-CCAP is held every semester. For those who interested in international programmes, this will be a great opportunity and should contact the Center for International Affairs.