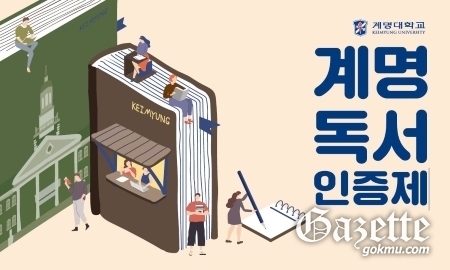 The Keimyung Reading Certification System will be held in the first semester of 2022. There will be a book certification system for 14 books. Students who want to participants can apply for the reading certification system a total of three times. The first application is from April 4 to April 8.
The overall method of the reading certification system is as follows. After accessing the Keimyung Student Portal STORY (story.kmu.ac.kr), apply to participate in the comparative course program. Then, log in to the home page of the Teaching and Learning Development Center (in-class home → reading certification), complete 30 computer-based questions (multiple choice), and then receive a score.
The reading certification system allows students to pass the certification course if they take the test online after reading the corresponding book and get a score of 70 or more points. The test time is 30 minutes, and there are 30 evaluation questions and 4 multiple choice questions.
Students participating in the reading certification system will be given 4 points for their COPASSK scores if they pass the test by book (Volume 1), issuance of KMU BEST READER certificates when meeting the criteria by grade, and payment of a special scholarship for the president (PLATINUM grade only).
The books subject to the reading certification system can be found on the STORY+ or Tabula Rasa College website. For more information on the reading certification system, contact Tabula Rasa College (053-580-6965).