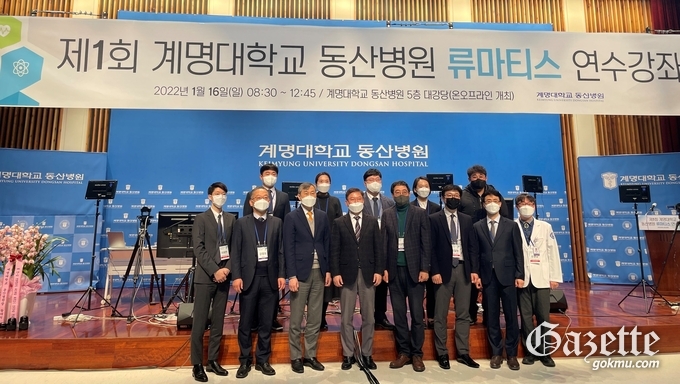 The 1st KMU Dongsan Hospital Rheumatismus Training Course was held online and offline at the hall on January 16th, 2022. The event was full, with 1,000 participants, and was considered a successful event. Under the theme of The Guide to Treatment of Rheumatismus disease and Musculoskeletal Disorder Common in Primary Medical Care Site, professors in the field conducted related sessions.

Programs were implemented to diagnose and manage rheumatoid arthritis, manage autoimmune diseases in the COVID-19 era, diagnose and manage osteoarthritis, and prevent and manage gout. It shared information for the diagnosis and management of the latest Rheumatismus diseases, including diagnosis and treatment of osteoporosis, commonly prescribed Rheumatismus tests and pay standards for drugs, discrimination and treatment of shoulder pain, and approaches and treatment of pruritus.

Meanwhile, KMU Dongsan Hospital's Rheumatismus department of Internal medicine was recognized for its excellence, being selected as the Center of Excellence. This award is announced annually by APLAR, and this is the for the first time to award a department outside the capital region.