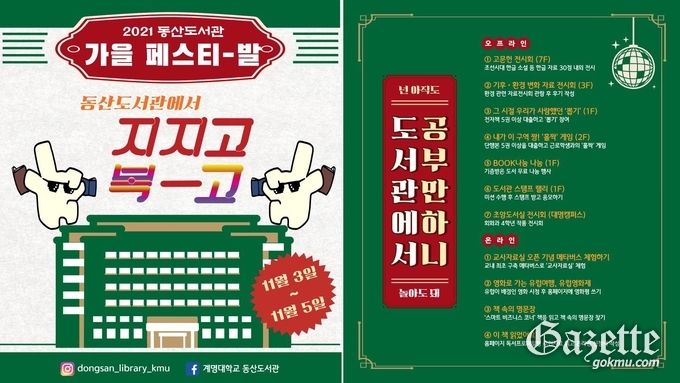 The Autumn Festival was held from November 3rd to 5th at the Keimyung University Dongsan Library. The festival combines "retro vibes' that are popular these days. The event was held over two ways, both online and offline, and various events was held, including exhibitions, games, and free sharing events.
The festival was held on the first, third, and seventh floors of the Dongsan library building. On the first floor, there was 3 events: a stamp rally which involves completing some missions, a lucky draw game which is available after borrowing 5 e-books and a free book sharing event. On the second floor, you could participate in the 'odd number game' with a working student at the library. On the third floor, a climate and environmental change exhibition was held and you could write a review after watching it. Also, an exhibition of ancient documents which are about Korean novels and materials from the Joseon Dynasty was held on the seventh floor. The festival was held at only on the Seongseo Campus but also on the Daemyung Campus where there was an exhibition of works by senior students majoring in painting. There was also various online events such as experiencing metaverse online or finding and sending impressive prestigious places in smart business corner books. Moreover, as the library is providing big data recommended reading profiling, there was event called: "I read this book!" That improves the reading profile and guiding function.
Details can be found on the Keimyung Dongsan Library website and official Instagram; @dongsan_library_kmu.