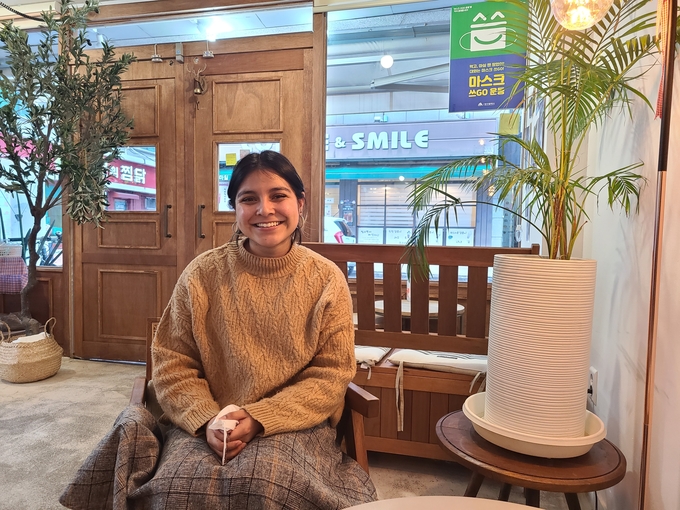 Q1. Can you introduce yourself?
My name is Jimena Andrade Castañeda. I'm from Mexico City, Mexico, where I lived my whole life. I study Law in National Autonomous University of Mexico (UNAM). And this is my last year in university.

Q2. You studied Korean before in Mexico and are taking the Korean language classes in KMU now. How did you first got interested in the Korean language and decided to learn it?

I firstly got into the Korean language by watching K-Dramas on Netflix when the pandemic began. Then, when I got the chance to come to KMU to study with scholarship, I went to the College of Languages in UNAM to learn Korean because I thought that to really get into one culture begins with learning the language of the culture.

Q3. You take several classes with Korean students as well. Did you make many Korean friends? What do you think about socialising with the KMU students?
Yes, I made more Korean friends than I expected before coming here. In Mexico, we have this stereotype about the Korean people being very shy and not so sociable. But now I know that it is wrong. I met many Korean friends who are very kind, funny, and sociable. Now I enjoy hanging out with my Korean friends and have such a good time with them.

Q4. I can see that many people have stereotypes about Mexico and the Mexican people. So, can you introduce the real Mexico to us?
Yes, I'm not saying the drugs or crimes are totally wrong. It is a part of Mexico, but it does not represent the country of Mexico as a whole. Mexico is a large country with different climates and diverse landscapes. And the Mexican people are very friendly and open to others, so much so that we help total strangers if they seem to be in trouble. Also, we have many national holidays related to our history. We have Revolution's Day, Flag's Day, and the most important of all, Independence Day. On Independence Day, we celebrate our independence from Spain, wearing traditional costumes.

Q5. Now you are in Korea, taking courses and seeing Korean people around. Do you think that helped you advance your Korean language skill?
It has been helping me a lot. In Mexico, it was difficult for me to practise Korean. Here, I can practise speaking Korean with my Korean friends. And when I go out by myself or with my non-Korean friends, I push myself to speak more in Korean even if I don't want to. Because, outside the campus, it's not easy to get what you want by speaking only in English. Although my Korean is not perfect, I try to speak in Korean for that reason, and it really helped me practise a lot.

Q6. I heard that Día de Muertos, Day of the Dead, is a big and festive holiday in Mexico. Can you explain it to us?
Día de Muertos (Day of the Dead) is a day to remember our precious people who left us by death. We believe that the dead comes to visit us to be with us on that day. So, we prepare an altar, light candles, and put their favourite food and their photographs to welcome them. We also dress up in traditional costumes, put makeups on, and dance and sing along to the songs about death. It is a very Mexican tradition.

Q7. Do you have any tips or words of encouragement for KMU students learning Spanish?
Firstly, stop trying to understand it by directly translating into your mother language. It will be frustrating and stressful, and it will not be accurate. Every language is different and unique so that you cannot have a one-to-one substitution from one language to another. Secondly, don't give up and keep practise speaking with someone who can correct you and give you some feedback. I know Spanish is sophisticated, but it is an articulate and beautiful language. I know it sometimes feel like your brain is burning, but don't give up and keep trying.