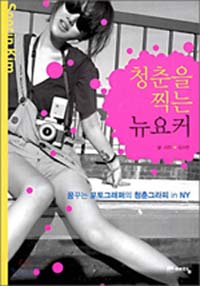 Written by Soorin Kim
Genre: Autobiography
Published in October 2008
308 pages
If someone asks you what your dream is, how do you answer? How does the writer and main character of this book, Soorin Kim, answer? Soorin Kim is a fearless young artist with passion and a challenging spirit. Ever since she was six years old, she has been using a camera and dreaming of being like Steven Meisel, who is a world-famous fashion photographer. This book reflects fashion, style, and the new generation's feelings and desires to express their individualities. It is an essay which expresses some aspects of the young, using Soorin Kim as an icon of stylish people.
The book consists of six avenues. The six avenues symbolize her mature ego and the processes to find inspirations as an artist. Each avenue is a street that is connected to episodes that deliver the feeling of walking down a street in New York. There are many streets, such as the nostalgia street which contains her childhood memories of when she arrived in New York for the first time, and that she dreamed of being a photographer, while the self-discovery street contains the memory of when she entered and learned at Parsons School. The fashionable street relates to the stylish Parsons School students' distinctive sense, and the passion street relates to her meeting the photographer Ryan McGinley, who inspired her about artists' identity. The friends street is the most important motive in her portraits, and the Soorin Kim street is the one in which she faces herself.
In the book, we can notice that her character is sociable, passionate, and ambitious. She has an affinity and boldness as a portrait artist. She finds a model and quickly catches the model's personality and finds proper connections to communicate with her. Because of her sociable character, she has many attractive friends. In addition, she had written down wishes in her diary to open an exhibition of her work at the age of 20, have pictures in a fashion magazine, publish her autobiography at 21, and to visit Ryan McGinley's studio and ask him to work with. Through her life we can see that the saying, "dreams come true", has been proved. Soorin Kim has always been dreaming.
The photos in the book capture the looks of the young who are hesitating to do what they want because of their fear of an uncertain future, but taking challenges and focusing on their dreams. The writer's determination to never give up her dreams could motivate the young. It is true that New York and a trendy fashion photographer appeals to the young, but she shows adherence to her job and self-management, which makes her professional. It is a book that encourages us to keep challenging ourselves and try to emulate her success.