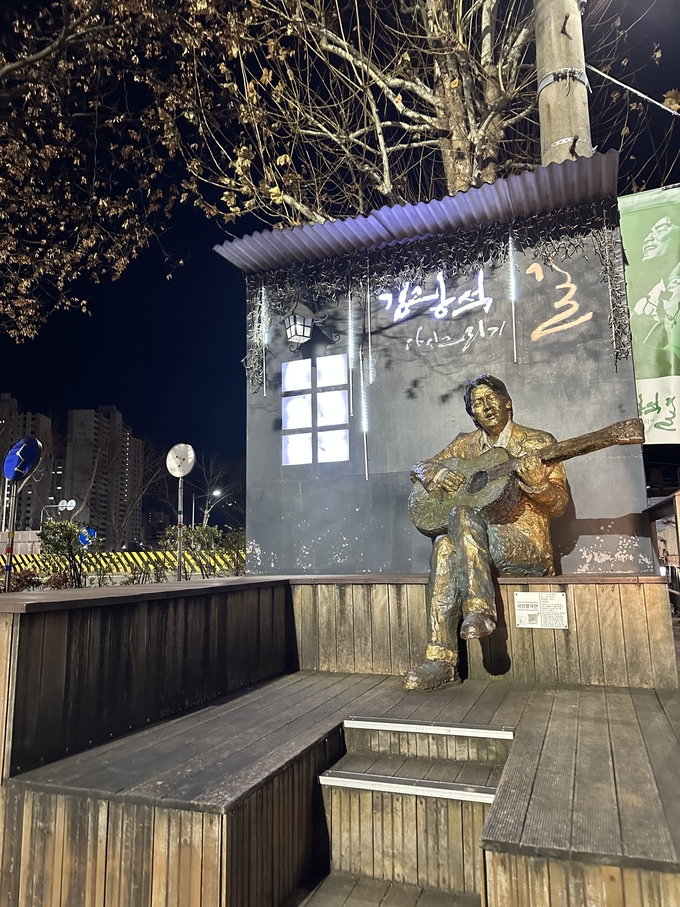 Each person holds a singer they cherish in their hearts. For many Koreans, Kim Gwangseok, a popular Korean singer in the 1980-90s, held a special place in the hearts of many people in Korea. His folk-rock music with nostalgic lyrics greatly influenced Korean culture. Kim Gwang Seok's music was extremely popular and loved by Koreans because his lyrics were quite different from other singers' songs, but in a calm way, which attracted people's hearts. His music held a unique power to enthrall the listeners and share a sense of connection with the audience. Artist Kim Gwang Seok sold more than five million albums, which was a high number, especially in this era in Korea. His magical lyrics connected everyone and inspired people to dream with hopes of achieving one's goals. With great accomplishments made, however, Kim Gwang Seok passed away at the early age of 31, leaving extremely shocking news in Korea. After years, his hometown, Daegu, created a street named after him called, 'the Kim Gwang-Seok Street ', for commemorative purposes on behalf of Koreans who continued to show love towards his amazing music. 
Not only does the street show a memory of Kim Gwang Seok's music, but it is decorated with beautiful murals and wall paintings—just like his music that showed calmness and helped people relax. This street is one of the places in Daegu where you can enjoy having inner thoughts and connecting with nature through his music and is located near Bang Cheon Market in Daegu, it can be easily found whether you take the bus, subway, or drive.  Throughout the street, you can view numerous murals of Kim Gwang Seok, which commemorate him and his albums. It honors the artist and his albums in his hometown. This location holds appeal for many tourists because of the other attractions besides the mural paintings. The street also has food trucks, cafes, restaurants, photo booths, etc. In addition, you can enjoy this place with your date if you would like to have a romantic time because some parts of the murals represent and symbolize a romantic ambiance. While walking through the street, you will notice that the paintings will also visualize the scenes from his songs and a quick storybook of his life. 
Whether you heard of this singer, or not, Kim Gwang-Seok Street is one of the top-rated tourist attractions in Daegu because many people can feel refreshed through his music. Kim Gwang Seok's music was filled with his innermost thoughts and great sentiments through his unique music style. His special narratives along with his music held a powerful impact on the audience and continues to do so. Although he was not able to shine longer in person, his music continues to shine brighter every day. Unlike any type of common street cafe, this mural street of Kim Gwang Seok can only be seen in Daegu, thus it is highly recommended that you take your time to visit this wonderful place. While visiting, you can take the opportunity to learn about Kim Gwang Seok and how his music significantly influenced Korean society in the 1980s.