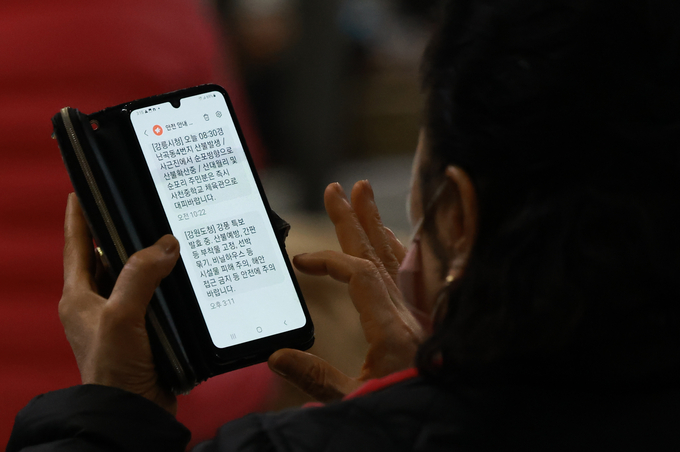 From 2020 to 2022, when COVID-19 was in full swing, the average number of disaster text messages sent per year reached 54,402 over a total of three years. The Ministry of Public Administration and Security of the Republic of Korea said it will push to exclude text messages recommended for safe driving or missing warnings related to heavy snow warnings from the disaster text list.
The disaster character system was introduced in May 2005, and it is now in its 19th year. In response to the emergency of the problem in Korea, air raid warnings, emergency disasters such as earthquakes with a magnitude of 6.0 or higher, emergency disasters such as typhoons and fires, and safety notices such as caution for safe driving in winter were sent by text. However, with the outbreak of COVID-19 in 2020, the number of daily confirmed cases and precautions in the event of a COVID-19 pandemic were sent to each city, resulting in a lot of inconvenience complaints. According to the Ministry of Public Administration and Security, the average number of disaster text messages sent per day has been 414 since 2019. However, from 2020 to 2022, there were 54,401 cases, up 131 times from before the COVID-19 pandemic.
The reform plan, organized by the Ministry of Public Administration and Security in consultation with the Korea Meteorological Administration and the National Police Agency, will exclude text messages related to disappearances from the disaster text system. Currently, information related to disappearances is being sent through disaster text messages, but a separate information delivery system will be established in the future to inform the public about missing people through the Amber Channel.
The biggest change that can be found in the near future is the heavy snow-related disaster notification service. Currently, if a heavy snow warning is issued, a simple text message has been sent to drive safely. However, the Ministry of Public Administration and Security said it will not send simple guidance in the future, but will send text messages only if the road is covered by heavy snow. In addition, the disaster text sending system related to heavy rain will be changed from this year. In the past, the definition of heavy rain in which disaster texts are sent was ambiguous, but it said it plans to clearly measure precipitation every hour. In order to deliver information quickly, the city, county, and district offices have omitted the delivery process, and the Korea Meteorological Administration has promised to send disaster messages related to heavy rain, and such reorganization will be expanded in 2024.
Finally, fewer earthquake-related disaster messages are expected to be received than now. Currently, earthquake disaster messages are sent on a metropolitan basis, but there were complaints that it was inconvenient to receive information on weak earthquakes that occurred far from the residential area. The Ministry of Public Administration and Security has decided to narrow the area subject to disaster text messages to cities, counties, and districts, and focus on sending text messages only to areas with real risk.
Currently, Gimpo announced that it sends disaster texts only once every Wednesday to increase the effectiveness of disaster texts. In addition, text messages will be sent only when necessary, such as precautions for quarantine measures, condition, and viruses in the bowels. Information on the occurrence of daily infections of COVID-19 will be disclosed on the Gimpo City website. Gimpo's safety officer announced that the number of messages will be reduced to relieve citizens' fatigue caused by disaster texts.
As the service that provided disaster information to citizens was suspended, it was possible to resolve citizens' complaints and inconvenience. It is expected that these disaster text services will not be stopped completely, but that the necessary parts will be emphasized, and the unnecessary parts will be resolved through other solutions to provide better services to citizens.