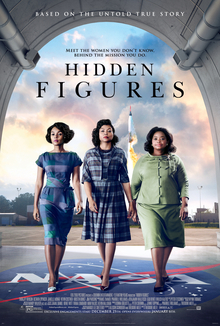 Provider: 20th Century Studios.
Running Time: 126 minutes
Released Date: December 25, 2016
Hidden Figures is a 2016 film directed by Theodore Melfi. Like the title of the movie, what characters are hidden? There are some hidden people who contributed to NASA project and pursued their rights against unjustness. Taraji Penda Henson, who starred in the movie as Katherine Coleman Goble Johnson, Octavia Spencer, who played Dorothy Johnson Vaughan, and Janelle Monáe Robinson, who played Mary W. Jackson, will appear.
This movie is about black women who did various and remarkable activities at NASA during a time when black women were not often seen in important positions. The black women who worked at NASA as computer workers experienced serious racial discrimination. For example, there were toilets only for people of color and they had to use separate water kettles. While NASA was struggling with its racial issues, Russia was making progress in its spacecraft project, so NASA was trying to carry out a project to counter it. This process was difficult. But, thanks to Katherine Coleman Goble Johnson who used her natural mathematical ability to complete a successful project, NASA was able to succeed. Other black women who worked within NASA also overcome a lot of discrimination and challenges and also made positive changes as well.
Hidden Figures is based on a true story, and this movie gives a glimpse into American society where racism and sexism were severe in the 1960s. It is a movie about black women trying to win their rights without losing hope even in difficult situations. It attracted more than 440,000 viewers in Korea. This movie can be seen through various OTT services such as YouTube, TVING, and Wavve so on. How about watching a movie about people working to gain their rights to commemorate the upcoming Science Day on April 21st?