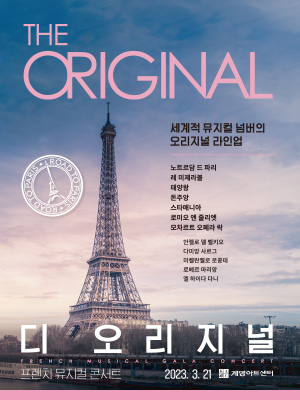 Venue: Keimyung Art Center
Performance period: 2023-03-21
Performance time: (Tue) 7:30 p.m.
Booking address: Interpark
Admission fee: KRW 150,000 for VIP seats / KRW 130,000 for R seats / KRW 110,000 for S seats / KRW 90,000 for A seats

The Original French Musical Gala Concert offers the best musical masterpieces in one place. Audiences can listen to the world's acclaimed French musical numbers with the best original actors, live bands and orchestras. The romantic French lyrics and the powerful melody of the orchestra consist of a total of seven highlights.
The original actors perform seven works, Notre Dame de Paris, LES MISERABLE, Romeo & Juliette, Mozart, L' Opera Rock, Starmania and Le Roi Soleil, along with the culture and history of French musicals. A representative work of French musicals with various themes gathered at the concert. Along with live performances by 20-member orchestras and 6-member bands, top actors who are active on stages around the world appear to add perfect harmony.
The Original French Musical Gala Concert is a performance by the original French team in Korea and is performed in the original language. Korean subtitles will be serviced through subtitle. The location of the subtitle machine will be confirmed during the stage setup process and will be announced later. I hope that people will be able to enjoy the original French number in the upcoming spring.
chloe7265@naver.com