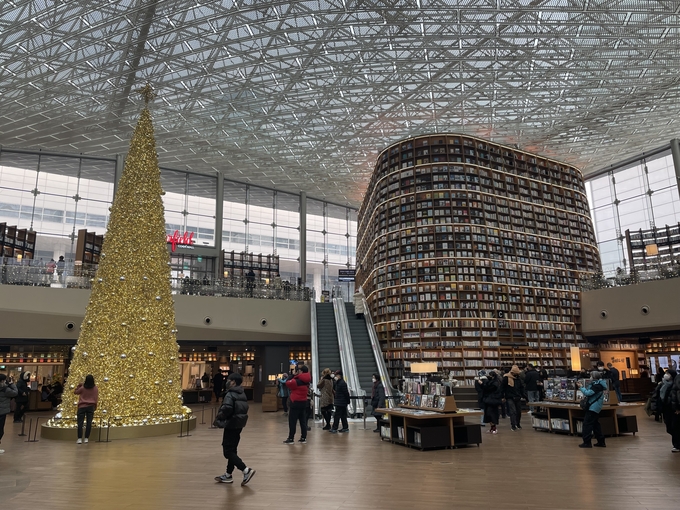 Starfield Library is located in the center of the Starfield COEX Mall in Seoul. It is a space that anyone can use. The Starfield Library is a complex cultural space where visitors can enjoy various activities and experiences and it is a place where people can relax, meet, and communicate with each other on the theme of books.
The Starfield Library has a basic reading space. It has around 70,000 books from various fields such as humanities, economy, hobbies, etc. Visitors can also enjoy e-books using iPads and reading magazines. In addition, tables and electrical outlets are provided so that customers can work on laptops at any time, which many visitors use. In addition, the Starfield Library will hold various cultural events, including a writer's talk show where visitors can meet the authors in person, poetry readings, and lectures from invited famous people. Anyone can attend the lecture on the day of the event without any need to pre-register, and the lectures are held on a first-come, first-served basis. Information on the lectures can be found on the social network service operated by Starfield Library or on the Starfield Library website. Since there are not many opportunities to experience various cultural events for free, it is recommended that you participate if you have a chance. There is also an opportunity to see the works of art contest hosted by Starfield Library, so I would recommend you visit Starfield Library. It is one of the library visitors who want to use unusual libraries.
The Starfield Library is open from 10:30 a.m. to 10:00 p.m. every day. The Starfield Library is located inside the COEX Mall, and there are ample parking spaces for convenient parking. If you want to experience various things besides the Starfield Library, you can also visit the entire COEX Mall. There are many restaurants and various places. For more information, visit the website of Starfield Library (https://m.starfield.co.kr/coexmall/tenant/starfieldLibrary) or contact the official number (02-6002-3031).
azur0209@stu.kmu.ac.kr