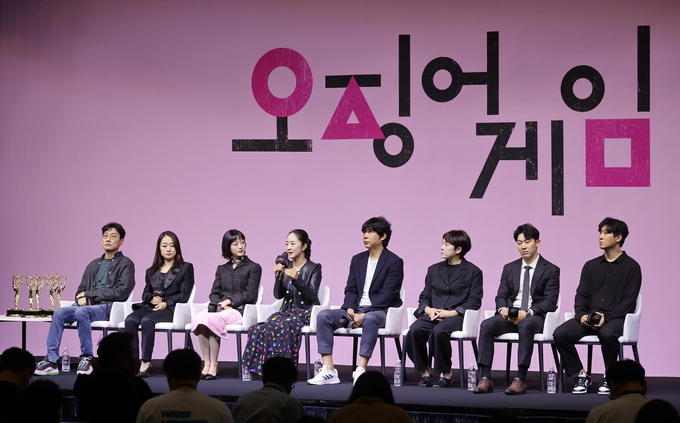 Following the success of K-pop and K-movies, a Korean drama has set a new record in the history of the Emmy Awards. Actor Lee Jung-jae and director Hwang Dong-hyuk of the Netflix's dystopian hit series "Squid Game" won the prizes for Outstanding Lead Actor and Outstanding Directing, respectively, in a Drama Series at the 74th Emmy Awards in Los Angeles. It is the first time that a non-English drama series received the prestigious award for artistic and technical merit in the television industry. Squid Game is a South Korean survival drama television series created by Hwang Dong-hyuk for Netflix. Its cast includes Lee Jung-jae, Park Hae-soo, Wi Ha-joon, HoYeon Jung, O Yeong-su, Heo Sung-tae, Anupam Tripathi, and Kim Joo-ryoung. The series revolves around a contest where 456 players, all of whom are in deep financial hardship, risk their lives to play a series of deadly children's games for the chance to win a 45.6 billion won prize. The title of the series draws from a similarly named Korean children's game. The series was especially loved by Korean viewers because of its ability to make them reminisce their childhood since most of the people actually have played the games in the series during their childhood. Likewise foreign viewers were attracted by its charm of knowing K-culture more deeply since the children's game is not a normal subject to learn about.
Including its previous winning of four awards in the categories of the Outstanding Guest Actress, Special Visual Effects, Stunt Performance and Production Design on September 4, "Squid Game" grabbed six trophies at this year's Emmy Awards. Unfortunately, the drama series fell short of winning the awards for Outstanding Drama Series and Best Original Screenplay, but its nomination itself proved the rising power of K-content.
The Emmy Awards for "Squid Game" carry great significance as the series was hugely popular with global audiences by depicting universal problems that our modern society faces such as polarization and inequality. Instead of relying on fandom of a certain actor and actress, the series became a global hit solely based on its strengths. Not to mention its unique originality and world-class performance of actors and actresses, the series showed top-caliber art, music and stunts to the world.
The horizon of K-drama is expanding fast due to the revolutionary changes in broadcasting. Since the sensation of "Squid Game," not only Netflix-made series like "Hellbound" and "All of Us Are Dead," but also locally-produced dramas like "Hometown Cha-Cha-Cha" and "Extraordinary Attorney Woo" have attracted global attention. After the hits of BTS and popularity of Korean films at Cannes and the Academy Awards, K-drama is joining the mainstream.
abcysl@gmail.com