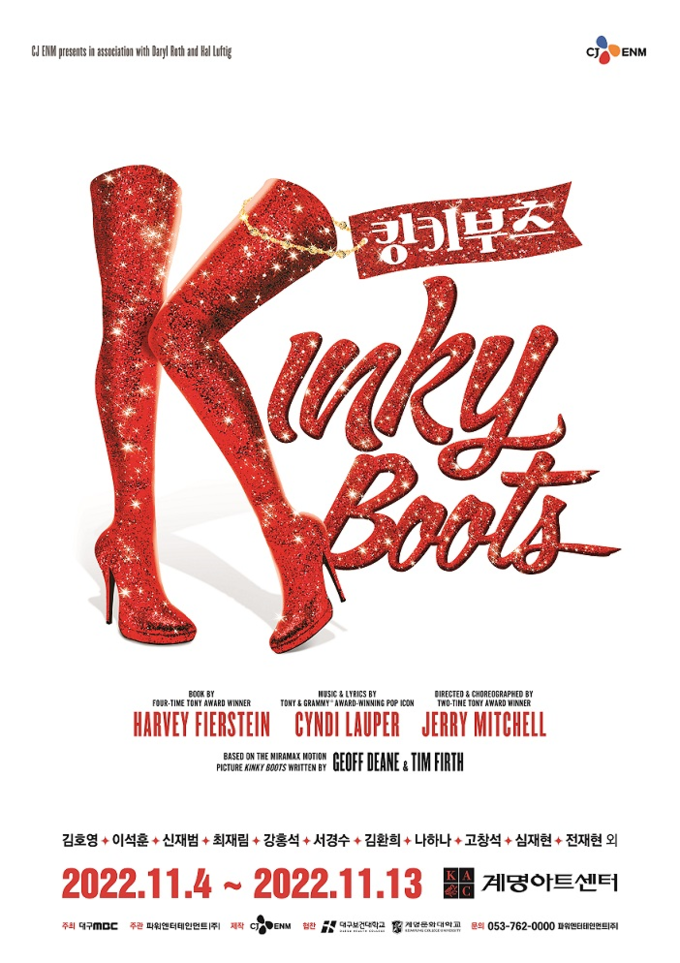 ​​​​​​​Venue: Keimyung Art Center
Performance period: 2022-11-04 to 2022-11-13
Performance time: (Fri) 7:30 p.m. / (Sat) 2:00 p.m., 7:00 p.m. / (Sun) 2:00 p.m.
Booking address: Interpark
Admission fee: KRW 150,000 for VIP seats / KRW 130,000 for R seats / KRW 110,000 for S seats / KRW 90,000 for A seats / KRW 70.000 for B seats
Kinky Boots is a musical that created very special boots while handmade shoe factories in Northampton, England, were closed due to poor management, creating the only surviving success story of the shoe factory. Even after landing on the domestic stage in 2014, Kinky Boots ranked in the Korean Musical Awards and The Musical Awards with its potential to captivate the audience.
The musical Kinky Boots deals with the fantastic teamwork of two completely different men. Charlie, who inherited a shoe factory on the verge of closure, meets Lola, a beautiful and pleasant man with completely different ideas and styles, and gets new inspiration and starts challenges. They decide to make Kinky Boots together, which are 80cm long boots worn by men. They try to showcase the hot Kinky Boots line at the Milan fashion show, but collaboration is difficult. In the end, Charlie will stand alone on the Milan runway, and the Kinky Boots completed by the two men can be confirmed through the musical.
There are also new cast members that will revitalize the play with fresh charms such as Jae-beom Shin and Kyung-soo Seo, and the main characters who led to the success of the Kinky Boots such as Ho-young Kim, Seok-hoon Lee, and Jae-rim Choi will appear. Through this, it has established itself as a steady selling musical representing Korea.