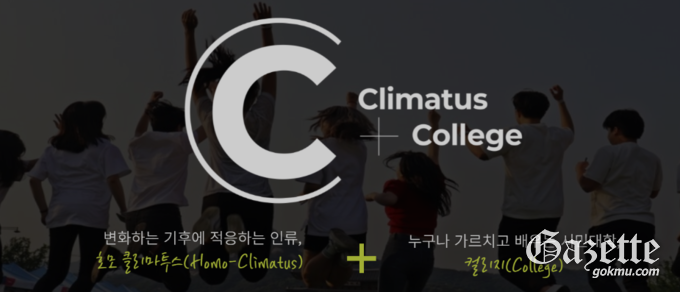 We are now in an unprecedented era of the climate crisis. Everyone knows the seriousness, but lots of people do not know how to act. For those people, this article introduces 'Climatus College', which is a climate change communication platform for the MZ (Millennials& Generation Z) generation.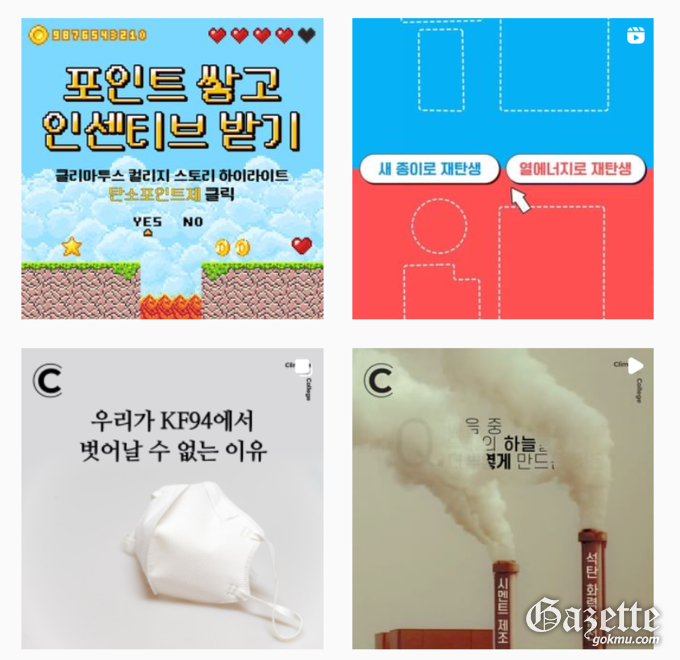 [Climatus College]
Climatus College is a compound word of the two words of "Homo Climatus" and "College". The word "Climatus" means "Homo Climatus" for humans who adapt to changing climates, and the word "College" means that citizens can realize the learning necessary for life.
As one of the projects regarding climate issue, 'Climate Change Center' is responsible for all activities of 'Climatus College'. It was established in 2008 as Korea's first non-governmental organization to promote the seriousness of climate change and respond to climate change.
Climatus College helps to provide a program consisting of campaigns, concerts, performances, magazines, and other mediums through which anyone can easily participate in a variety of activities relating to climate change. It is constantly expanding its SNS (social networking service) network and providing informative content. These developments are primarily directed toward members of the MZ generation who make up approximately 44% of our population. Furthermore, through collaborations with a range of businesses the goal is to evolve Climatus College to facilitate greater connections and participation from the general public.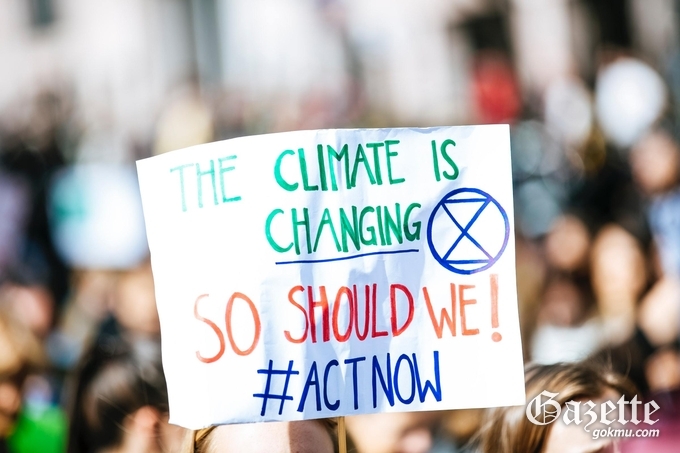 [Green Job]
Climatus College will introduce decent jobs of the coming future, especially paying attention to Green Job, which is climate-environmentally positive and can create new values for sustainable transition in the era of the climate crisis.
According to ILO (International Labor Organization), green jobs are decent jobs that contribute to preserving or restoring the environment, be they in traditional sectors such as manufacturing and construction, or in new, emerging green sectors such as renewable energy and energy efficiency.
In other words, green jobs are jobs that perform various duties in the fields of support for low-carbon economic activities, energy sources and high efficiency, environmental protection resource circulation, and greening industrial spaces.
For example, in the field of supporting low-carbon economic activity, there are climate change policy analysts who investigate and analyze policies related to renewable energy, energy efficiency, or climate change, and sustainability analysts who can suggest ways to reduce carbon dioxide emissions and operate sustainably.
In the field of greening industrial space, an electric vehicle designer and a green architect dedicated to designing electric vehicle drawings and managing automobile products will be the examples.
Currently, the green job market trend is hopeful globally because each government is actively implementing green industry development policies.
In France, the innovation of the existing energy supply system has led to the intelligence and advancement of the electrical grid, attracting attention. In the United States, under the name of an eco-friendly logistics expert, refrigeration technology and logistics business to reduce carbon dioxide are promising.
In the case of the United Arab Emirates, green building architects are required to have technologies that meet environmentally friendly architectural standards such as LEED at the level of designing the layout of buildings.
[Environmental Data Platform]
More than before, the importance of non-financial information (ESG: Environmental, Social, Governance) of companies in addition to financial performance is being emphasized as corporate sustainability and responsibility are required. By increasing access to environmental data, the Climate Change Center encourages individuals to demand responsibility through the disclosure of environmental data of companies as investors.
Since Korea push ahead with the duty of publication of environmental data, the importance of information transparency has also increased. Therefore, Climate Change Center identifies companies' environmental performance and risk management capabilities to reduce greenhouse gas and achieve Net-zero, and discloses various information, especially for sales by the top 500 companies. The data being disclosed are as follows- the amount of Greenhouse gas emissions & energy use, the quantity of fine dust emissions, water recycling rates, and waste recycling rates.
In addition, Climatus College provides key content that briefly summarizes news related to climate change under the name of 'C!-News' and also operates a 'C-log' section containing various stories related to climate change.