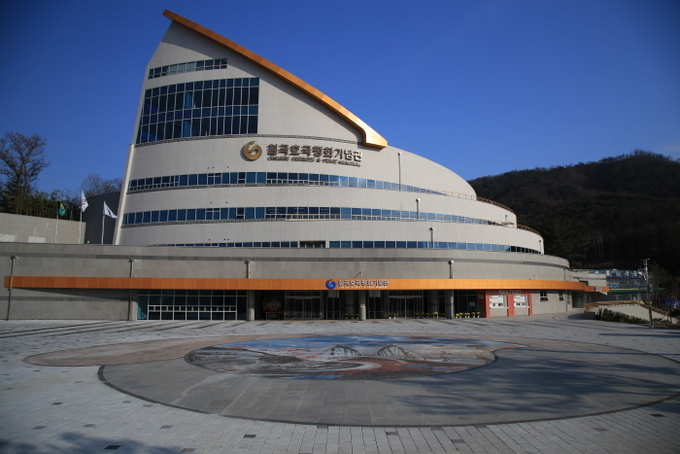 Chilgok Patriots & Peace Memorial Hall is located in Chilgok, and it is the largest battleground of the Nakdonggang River defense line. This battle reversed the momentum of the war through 55 days of the Nakdonggang River defense line battle during the Korean War.
Under the theme of the Battle of the Nakdonggang River Defense Line, which was the last line of defense for 55 days during the Korean War, Chilgok Patriots & Peace Memorial Hall was built to thank those who died in the war and to inherit and develop their spirit of patriotism.
Various records and relics are displayed in a four-story building with two basement floors and a wide outdoor memorial hall. There is also a space for patriotic peace experience where you can cultivate a sense of patriotism and love for the country through realistic production models and experience facilities.
It is open from 9 a.m. to 6 p.m. during the summer season from March to October, and from November to March during the winter season, it is open from 9 a.m. to 5 p.m. Also, there is an admission fee of 3,000 won for adults, 2,000 won for middle school and high school students, and 2,000 won for soldiers.
This museum is made up of several exhibition halls. First, there is Patriots Exhibition Hall which is an exhibition space that deals with the 55-day Battle of the Nakdonggang River from August 1st to September 24th, 1950, where you can impress the Korean War and the Battle of the Nakdonggang River.
Next, at the Battle Experience Center, you can enter the training center and experience the battle of the Nakdonggang River defense line. It consists of an experiential space, so you can feel the fierce battle that was required to conduct the mission. Also, you can experience many things such as broken houses, wearing a military uniform, and participate in a shooting experience.
The Infant Peace Experience Center is a space for children, but since it is quite easy to explain war-related information, it is easier than a general exhibition hall and you can get information through various activities, so it would be good for students to visit.
In addition to this, A stereoscopic video hall and various experience programs. However, these programs vary frequently, so please search for more information at Chilgok Patriots & Peace Memorial Hall.
There is also the Chilgokbo Ecological Park that is just a short walk from Chilgok Patriots & Peace Memorial Hall. Beautiful natural scenery and a coolly open wide park are popular as a resting place for residents. There are also various convenience facilities such as children's playgrounds, walking paths, benches, and rest facilities, which are good for running around with children. In addition, the bicycle path is well maintained, so it is good for riding. There is also the Nakdonggang River World Peace Culture Festival held every year from late September to early October. This is an incredibly beautiful natural environment for taking pictures and the sunset is very beautiful. You can also enjoy camping there.June in Korea, includes Memorial Day, Korean War Day, and the Second Battle of Yeonpyeong, and is designated as the "Month of Patriots and Veterans" as various events are held to honor noble sacrifices and practice love for the country
On the Patriotic Month in June, it is a good opportunity for students to reflect on the meaning of freedom, peace, sacrifice, gratitude, and patriotism. A great place to do this is at the Chilgok Patriots& Peace Memorial Hall where you can also enjoy the beautiful scenery of the Nakdonggang River.