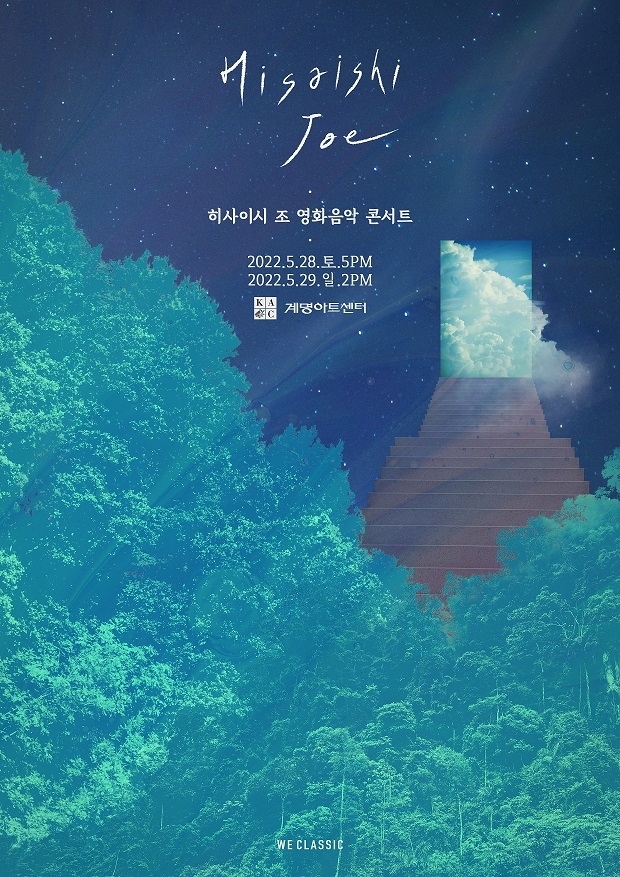 Venue: Keimyung Art Center
Performance period: 2022-05-28 (Sat) to 2022-05-29 (Sun)
Performance time: May 28th (Sat) 5:00 p.m. / May 29th (Sun) 2:00 p.m.
Booking address: Interpark
Admission fee: KRW 120,000 for R seats / KRW 90,000 for S seats / KRW 60,000 for A seats / KRW 40,000 for B seats
The Hisaishi Joe Film Music Concert' is a film music concert that showcases the film and animation music of the master composer Hisaishi Joe in various collaborations with a full-organizing orchestra. Starting with the OST of Hisaishi Joe's first animated music, "Nausicaa of the Valley of the Wind, Hisaishi Joe's movie concert live, KiKi's Delivery Service, Spirited, Ponyo on the cliff, and Kikujiro's summer." So, Thirteen OST songs will be played with Ost of "Laputa: Castle in the sky" and Howl's Moving Castle.
This performance will be performed in collaboration with a full-length without video. The Hisaishi Joe Film Music Concert Live was performed by conductor & pianist Kim Jae-won and violinist Kim Young-joon, who demonstrates delicate sensibility and skills through various activities at home and abroad. In addition, Ko Kwan-soo, the head of the Busan Symphony Orchestra and Korea's representative oboist, and Bae Sung-woo, a cellist who is considered to have excellent musical interpretation skills, participated in the concert, raising expectations for the album. It will also present a beautiful melody of Hisaishi Joe with a recording of the 70-member full-length WE Philharmonic Orchestra.