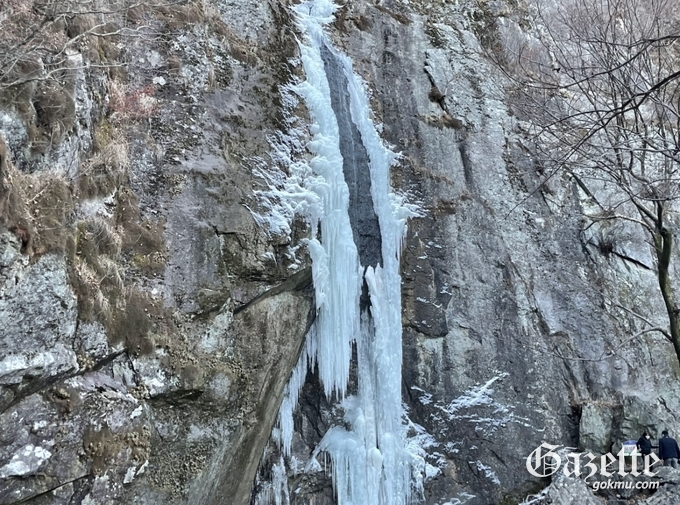 Geumo Mountain is the highest and most visited mountain in Gumi, a city located just outside of Daegu. The "GEUM" in Geumo Mountain means gold, and the "O" means crow. It is said to have been named by a monk from the Three Kingdoms period when he saw a golden crow flying into the sunset of the mountain. Actually, if you visit Geumo Mountain, you are able to see golden crow-shaped statues in many places on the mountain. Geumo Mountain is 976.5m high, and takes approximately 4 hours to get to the peak and return.
Geumo Mountain is beautiful in all seasons. In the spring, the mountain is full of cherry blossoms, and in summer, you can enjoy cool valleys and waterfalls. In autumn, you can enjoy beautiful autumn leaves, while in winter, the frozen waterfall is a superb view. The reason why I want to recommend Geumo Mountain to students is the beauty of the mountain itself, but there are also many things to do around Geumo Mountain.
Geumo Reservoir
Geumo Reservoir is located about a 5-minute walk from Geumo Mountain parking lot. If you walk along the promenade next to Geumo Reservoir, you can enjoy many photo zones, surrounding mountains, and quiet reservoirs. Because it is such a large reservoir, it takes more than 30 minutes to walk around the entire area. While walking at the reservoir, you can see swimming fish, and you can see downtown Gumi because it is quite high. Also along the Geumo Reservoir, there is a small store where you can relax for a while, and you can also buy a ticket to ride the duck boat. Duck boats don't operate in the winter when the reservoir freezes. In addition, the trail in Geumo Reservoir is connected to Geumo Mountain, so you can climb to Geumo Mountain easily. Geumo Reservoir in spring is a perfect area for feeling cherry blossoms and warm mountain air.
Neo-Confucian history museum
Walking along the trail of the Geumo Reservoir, you will find the Neo-Confucian history museum. The Gumi Neo-Confucianism Museum is the first public museum in Gumi and it is a space where you can feel the four seasons of Geumo Mountain immediately. It consists of three exhibition halls: the Gumi History Museum, which displays the historical meaning and role of Gumi, the Neo-Confucianism Exhibition Hall, and the Neo-Confucianism Exhibition Hall, where visitors can experience books and woodblock prints. It is recommended to visit here when you are tired while walking around the Geumo Reservoir.
Chaemijung
It is a pavilion from the Joseon Dynasty,and is only a 5-minute walk from the Geumo Mountain parking lot. It was built during King Yeongjo's reign to commemorate the loyalty and academic virtues of Giljae, a scholar and loyalist of the late Goryeo Dynasty. It was designated as Gyeongsangbuk-do Monument No. 55. Historical information about Goryeo and Joseon can be found here, and portraits of Giljae, a famous Neo-Confucianist, are also on display. You can study history while enjoying a quiet and calm atmosphere and mountain scenery.
Geumo Land (Amusement Park)
Geumo Land is located right next to Geumo Reservoir. Geumo Land is the only amusement park in Gumi and is visited by many people. There are not many rides, so it is not recommended for those who just want to go on rides. If you want to enjoy sledding, a swimming pool, and an ice rink, I recommend visiting. Since it is not an amusement park where rides are mainly used, it is a good place for children to play. There is a restaurant and cafe in front of Geumo Land, so you can walk through Geumo Reservoir and go near Geumo Land to relax.
Geumo Mountain Cable Car
You can see the superb view of Geumo Mountain without having to climb it by using the Geumo cable car! If you walk about 10 minutes from the entrance of the trail, you'll find the cable car. The cable car runs every 15 minutes and finishes at 5:45 p.m. If you take a cable car, you will go up to Daehye Falls, about half of the hiking course. While going up by cable car, information about Geumo Mountain and Gumi will be broadcast in the cable car. It runs as either a one way or round trip, so you can also go down on walk.
Geumo Mountain can be reached by train from Daegu Station or Dongdaegu Station and takes about an hour--just get off at Gumi Station,and take a bus for 15 minutes. Since it is close to Daegu, I think it will be good for students to visit. Everything described above can be enjoyed in Geumo Mountain Provincial Park, and I hope many students visit Geumo Mountain to see the beauty of the mountain and the surrounding area, as well as to get interesting information about Neo-Confucianism.