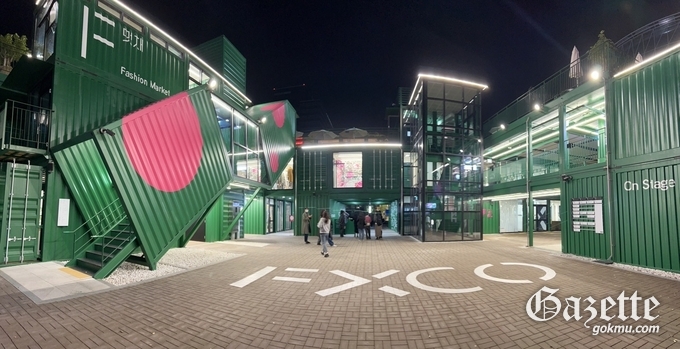 "FXCO" is a name created as a combination of fashion and coexistence and aims to support the sales of emerging designer brands in the fashion sector as well as local youth start-ups. It was completed with three trendy container buildings and three floors (a total floor area of 1,839m2/556 pyeong). Free exhibitions and living props stores have been gathered in one place, including editing stores that collect and showcase new designer products, art shops, cafes, and restaurants run by local young people. As the number of COVID-19 confirmed cases is still not decreasing, non-face-to-face VR tours are also conducted. If you access the VR tour of the FXCO Mall website, you can experience 3D stereoscopic environments throughout the space depending on the movement of the mouse. By clicking on the marks shown in each space, you can check the brand and read product introductions, and you can even purchase items.
FXCO, a fashion-cultural complex that coexists with local young people, was officially opened on October 1st as Daegu City planned to support the expansion of the market for emerging designer brands in the local fashion sector. As if proving the interest and expectations of citizens gathered since the construction of the building, citizens wearing masks have continued to welcome and welcome Daegu's new landmarks despite it being only the pre-opening period.
FXCO is Daegu's first container-type fashion and cultural complex with three stories in three trendy container-type buildings named for the meaning of Fashion X Coexistence. It aims to establish itself as a leading lifestyle space in the region, with editing stores that collect and showcase fashion brand products, art shops, cafes, restaurants, and free exhibitions that will bring some small joy to daily life.
Daegu City is promoting and supporting brand development from emerging designers who will lead the fashion industry to continue their firm position as an indispensable textile fashion city in the world as well as representing Korea through continuous efforts and policy support projects for the textile fashion industry. To this end, Daegu has established a textile fashion design start-up incubation center with Keimyung University's Industry-Academic Cooperation Foundation since 2002 and has been running a program to plan, produce, and distribute designs for early entrepreneurs. In addition, Creative Design Studio (CDS) is set up through the Korea Fashion Industry Research Institute to provide various promotional, marketing, education, and consulting customized programs for creative spaces and business activities for up-and-coming local designers. In other words, it is a designer incubation program over the first and second rounds.
In addition, thanks & Nature, a naturalist direction brand that develops aromatherapy (scent therapy) for busy and tired modern people and is made of natural materials, finds works of independent artists aiming for a life with art, produces various products, and presents joy and editing shop.
If it is burdensome to go due to COVID-19, a FXCO VR tour that allows "Bangkok Shopping" is also possible. If you access FXCO Mall's website (www.fexcomall.com) and click VR TOUR at the top of the first screen, you can experience a 3D stereoscopic environment as if walking around the space according to the movement of the mouse.
FXCO, which has just begun its infancy, provides young start-up brands such as lifestyle and artist select shops with opportunities to challenge at all times and provides a foothold for growth through on-off marketing and global marketplace support projects.