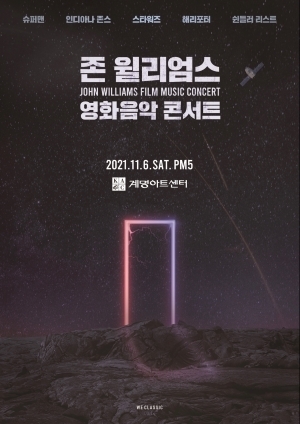 Concert information.
Reservation: Interpark Ticket
Ticket open: September 14, 2021.
- Concert date and time. - Saturday, November 6th at 5 pm.
- Concert venue: Daegu Keimyung Art Center.
- Ticket price: 120,000 won for R seats / 90,000 won for S seats / 60,000 won for A seats / 40,000 won for B seats. (Discounts are available for enrolled students.)
- Rating: 7 years of age or older (not allowed for preschoolers)
- Time to watch: 120 minutes (20 minutes including intermission)
On November 6th, 2021, the John Williams Film and Music Concert will be held at Keimyung Art Center at Keimyung University Seongseo Campus. You can once again feel the lingering feeling of movie music, which shines brighter than a John Williams movie, the master of movie music.
John Williams participated in the film's Star Wars, E.T., and Schindler's List and won an Academy Music Award, and is a legendary film music composer who has won 17 Grammy awards. Numerous works of various genres, including the movie Harry Potter series, Star Wars series, Jurassic Park, Indiana Jones, Superman, Private Ryan, Schindler List, Home Alone, and Jaws.
The John Williams Film Music Concert in Daegu is the only film music concert that best collects the songs of the legendary composer John Williams, a master and ongoing blockbuster and fantasy film music master. It is scheduled to collaborate with the 70-member full WE Philharmonic Orchestra and violinist Song Ji-won, the winner of the international music competition. The concert was held in Seoul and Busan and is scheduled to visit Daegu on November 6.