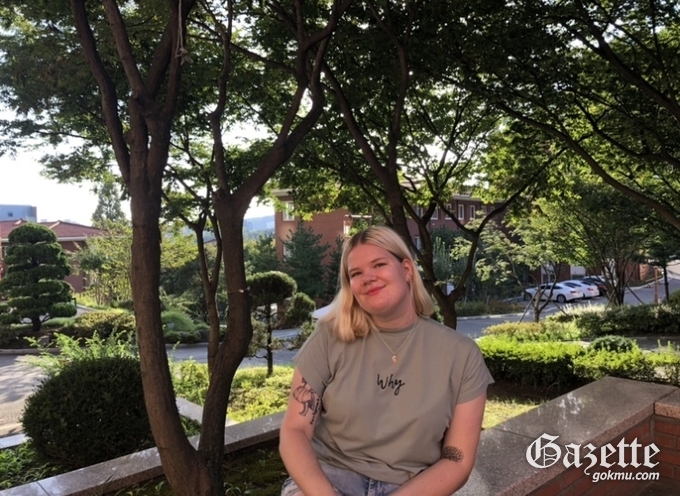 Q1. Can you introduce yourself?
Hello, my name is Riika Autere from Finland. I am 23 years old. I came to Korea just a month ago in August. This is my first time to experience Asian culture. I started my interest with Korean culture through Netflix. By the Covid-19 crisis I had a long time to just stay home. While staying home I started watching Korean drama from Netflix and made my interest grow about Korea.
Q2. Why did you choose KMU for your exchange school in Korea?
Telling the reason why I choose KMU is because I wanted to come to Korea as an exchange student, but I did not have a particular city that I wanted to go. I did not want to go to Seoul since it is the capital city and that I could easily go to Seoul for travel. I had an idea to make an unique experiences in Korea so I went through the list of school I could choose and find Daegu Keimyung University. Doing some googling I found Daegu has a welcoming environment for international students. After applying Keimyung University the school send me some flyer for international students and all the facilities like the International Lounge and the Buddy Program seems nice for students like me.
Q3. How do you spend your time in KMU?
Since with the COVID-19 crisis I do not have many classes that is face to face except one. I am excited for the contact classes that would start from October. I usually spend my time doing my class work and venture around Keimyung University. I have been near to the river side and hoping to venture the downtown of Daegu one day. I am also trying to do some hiking in Daegu since I like hiking.
Q4. What are some things or events that make you passionate nowadays?
I personally enjoy going to new countries and meeting new people with different culture. Staying in Korea just makes me happy learning new culture and meeting diverse people. I also enjoy experiencing new Korean food. Recently I enjoyed having Sundubu-jjigae (Tofu Stew) and I am excited to try other new Korean food. Being an outdoor person, I enjoy reading and writing outside near Keimyung University. By this exchange student program in Korea, I am hoping to find what I want to do for my future career and I want to spend some time to learn about myself.
Q5. How is your life in Korea in the current pandemic situation?
I experience quarantine in Finland. It was lonely and depressing being alone in the house. I was hoping that my exchange student program to Korea would not be cancelled. Happily, I could come to Korea and with the Covid crisis getting better I could enjoy hanging around. Still not having many classes in contact I hope it would be better soon and wish I could have my courses in face to face in the Keimyung University campus.
Q6. Are there some tips you have for other exchange students that might come to KMU?
I want to tell the other exchange student to not have expectation and just be ready to face the new experiences. I sometimes feel the information I get from the school and my friends is incorrect. Also, with the COVID-19 crisis many circumstances are canceled. So, there is a lot of changes and students need to be adaptable with the changes. Do not feel stressful with the changes and be open. With Korean culture I had some worries that people might give attention to my tattoos, but I did not get that much attention, so I was relieved. I still do not have any experiences that made me unacceptable the Korean culture.
Q7. Do you have any goals for your time as an exchange student at KMU?
I do not have a big goal since I am just staying only one semester which is sad. Staying in Korea I hope I could see and learn more about Korean culture and Asia culture. Not having much experience of Asia, I hope I could learn to see in a new perspective differ from the western perspective. I hope from this exchange program I could learn the attitude to appreciate the new culture.