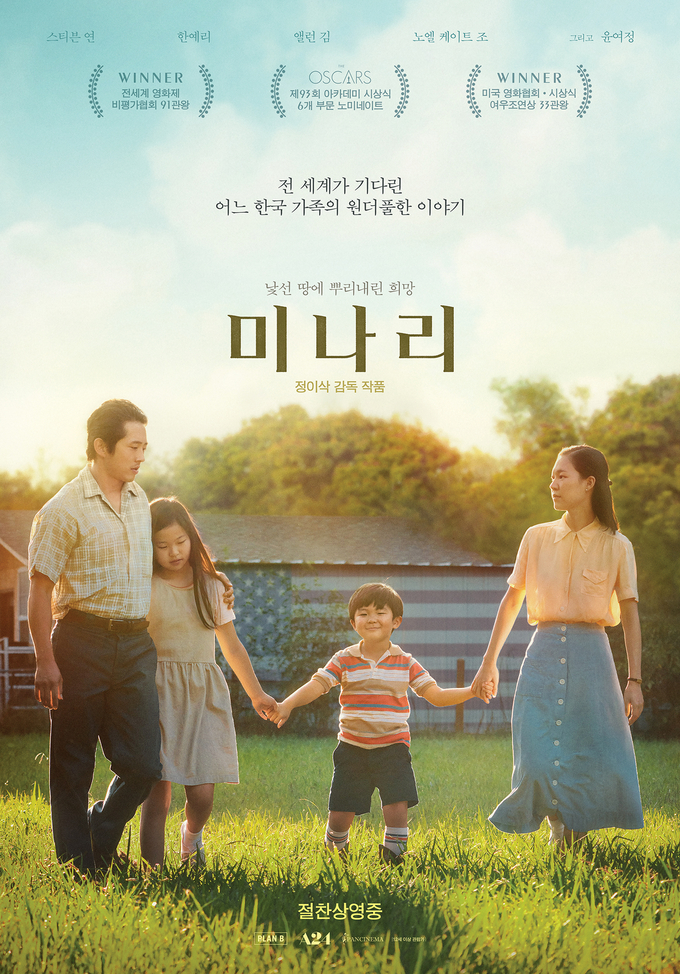 Director:Lee Isaac Chung

Genre:Drama

Running time:115 min
Minari is a Golden Globe winning Korean film about an South Korean immigrant family living in the US and expriencing difficulty, but they still love and believe in each other. This movie has gone viral following the popularity of another Korean movie, Parasite, and has received six Oscar nominations and is being mentioned as a candidate for the 93rd Academy Awards.
Minari was written and directed by Lee Isaac Chung. Chung's experience as a small child that immigrated from South Korea to rural Arkansas is the main plot of the story and shows the hardship of an immigrant family trying to achieve the American Dream. This movie is shown from the perspective of David who is the young son of the Yi family and is also inspired by Chung's childhood. Jacob Yi, David's father, has a dream to be a successful farmer in America. Monica, David's mother, worries if Jacob can be successful after seeing a number of failures, so Monica's mother comes from Korea to help the Yi family. The Children of the Yi family, David and Anne, struggle to understand their grandmother who from their perspective behaves in abnormal ways due to the cultural differences.
The most touching scenes show the Yi family solving their conflicts and pain within themselves. Even in the hard circumstances, the role of family to believe in each other and help each other through hardness is seen as precious. As society changes its value to be more individualist, the love and belief shown form the Yi family are what makes this movie so special. This movie is an American movie with Korean actors and actresses, however, it was a movie full of Asian values.
Starting with Parasite, Korean movies have shown great progress in the movie industry. There is much more attention on Korean movies and curiosity as to what kind of different style Korea can show to an international audience.