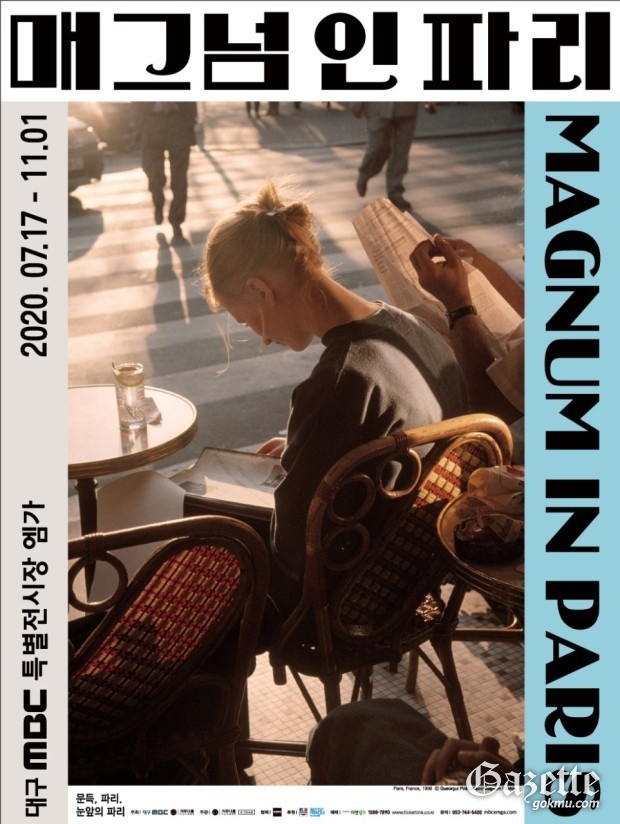 <MAGNUM IN PARIS> is a multi-layered photo exhibition that shows the perspectives and stories of Paris and people living in Paris with pictures of masters in Magnum Photos. 'Magnum Photos' is an international photographic group which is recognized their supreme authority all over the world. The exhibition shows the scene of Paris following the history of France. In main exhibition, the profile of individual photographers of Magnum Photos and intro video are introduced. Then, exhibition introduces Paris stained with poverty and war after the Second World War (1932-1944). Second, exhibition expresses the nostalgia of the time when Paris became famous again as the 'capital of art' through reconstruction (1945-1959). Then, history of revolution is covered with the vivid pictures of Paris (1960-1969). Beyond the history, the ever-changing image of Paris (1970-1989) is covered as well. At last, Magnum Photos delivers the newly transformed appearance, that is, modern and familiar scene of Paris.
Besides, the unforgettable moments of the world's fashion history in Paris, the home of luxury industry and fashion will deliver after the exhibition related to history. A portrait of 24 Parisians, Salon de Paris and mega-exhibition will be held as well.
Magnum Photos is sharing their visions which is to ensure the right of choice & editorial right between the capitalist magazine publishing company and the photographers. Their work gives out the questions such as 'How can we face the world through photos?' 'What should we record through the pictures?'. This exhibition gives the impression about photojournalism.