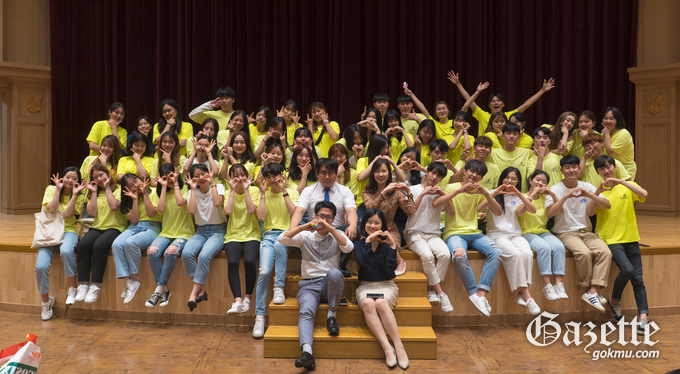 Keimyung Open-campus Day with Dreamy in 2019.
Q. Please introduce yourself briefly.
Hello, I'm Ryu Seung-hyun, my major is Transportation and Engineering. I took part in Dreamy to provide information about various departments for middle and high school students. I had difficulty studying my major. Therefore, I wanted to suggest that they research all majors.
Q. What kind of activities does Dreamy do?
Dreamy belongs to the admission team of Keimyung University. It provides an introduction of majors and many experiences for middle, high school students.
After getting an introduction to Keimyung University and various majors, students choose activities to experience different majors. Normally, they visit Keimyung University, but that's not possible due to COVID-19. Instead, Dreamy volunteers visit schools to provide information. Besides, there are special programs called 'Open-campus' and 'Visiting rural areas'. The first program provides diverse activities for students, and the other is to visit rural high schools where students can't easily afford to visit KMU. As a result, many high school students are provided various options.
Q. Tell me one of the most memorable activities.
Every summer, Keimyung University holds a three-day 'Open-campus' for a large number of high school students that all Dreamy volunteers participate in. The main activities are preparing applications, meeting with professors of various departments, and participating in mock interviews. Also, mentors hold performances. Getting information about universities and majors is limited for many high school students. Therefore, I think this program will give students a chance to deeply explore the majors they are interested in and to organize their thoughts.
Q. Can you give some advice to someone who wants to participate in Dreamy?
It is a good chance for students who wish to communicate with lots of people and want to improve their presentation skills. Participation in the program also makes your college life more valuable. But, unlike other clubs, you have to devote your time. You will be able to have a good time by using your free time wisely.