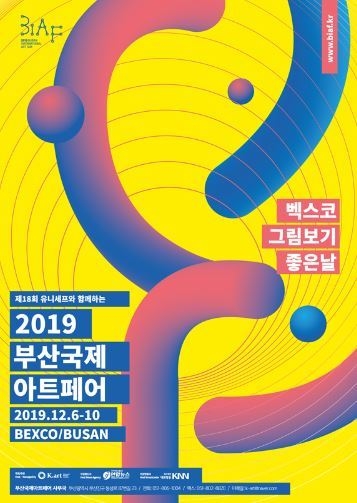 Location:Busan Bexco Exhibition Center
Date: 2019. 12. 05 (Thu) ~ 12. 09 (Mon)
Website: biaf.co.kr
The Busan International Art Fair (BIAF) will be held in the cultural city of Busan for five days from December 5th to 9th. The fair is dedicated to showing the role of art director and is based in Busan, a city where people, technology, and culture are fostered. It tries to realize the meaning of breathing in art spaces where people participate and designing the future with cultural values. It is the only open art venue in Asia, featuring more than 3,000 works by renowned Korean and foreign artists.
The BIAF has hosted great works from artists such as Picasso, Jackson Pollock and Paik Nam-june. It also introduces a variety of works in abundance to present the audience with contemporary art from Korea and around the world that communicates in one place.
At this year's BIAF, you will be able to see works by artists representing the new and old awards, can meet Indian artists from Mumbai and Chennai, and Japanese and Dutch artists. In response to last year's Soviet Union's special exhibition on famous paintings, the festival will increase the number of works this year to create the first special booth for Soviet art in Korea. This is highly anticipated by many contemporary art lovers.
The BIAF is trying to strengthen its status as a global art exhibition by connecting artists and consumers directly in an open art market. It also plans to donate part of its profits from the fair's booth to UNICEF's Korean Committee and to continue its social services.
If you are interested in modern art or want to learn about modern art trends, I recommend you visit the fair. This will not only provide an opportunity to interact with the works, but it will also show you the value of culture.