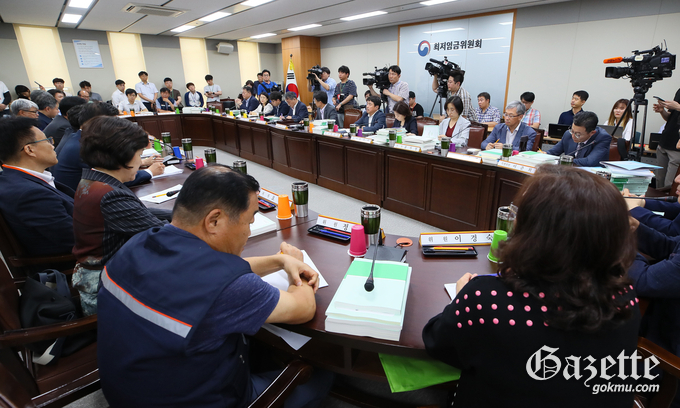 The minimum wage for 2020 was set at 8,590 won as of July 11. It is the third time that the minimum wage rate increase has been 5 percent or lower level since the IMF and the global financial crisis. President, Moon Jae-in's pledge to set the minimum wage of 2020 at 10,000 won was broken, so strong opposition from labor groups is expected.
The Minimum Wage Council held the 13th plenary session at the Sejong Government Complex on July 12, 2019, and voted for the 2020 minimum wage of 8,590 won. The Korean Confederation of Trade Unions (KCTU), which failed to finalize the plan during the 12th plenary session because of the final demands made by the Korean Confederation of Trade Unions (KCTU)`s emergency Central Executive Committee.
The increase will cost 1,795,310 won per person per month (based on 40 hours per week, 209 hours per month). Business communities accepted it, while the labor unions responded that it is a disaster. The Federation of Korean Trade Unions protested the minimum wage decision, saying it was problematic, and it was not accepted. President Moon apologized for missing his pledge of a minimum wage of 10,000 won. The 2020 minimum wage will be applied to all workplaces, regardless of the type of business, from January 1, 2020.
The Ministry of Employment and Labor will come up with a variety of complementary measures to stabilize the lives of low-wage workers. For the last two years, the minimum wage has increased significantly. It has become a burden to workers and businesses because the higher minimum wage has increased owners' personnel expenses and it has caused businesses to reduce the number of jobs and the number of hours an employee can work. Therefore, the minimum wage of 2020 is the proper decision for each side of society. Park Joon-sik, head of the Minimum Wage, said that this is the result of our honest reflection on the current difficult economic conditions and the consensus is that we need to be flexible in dealing with the reality.