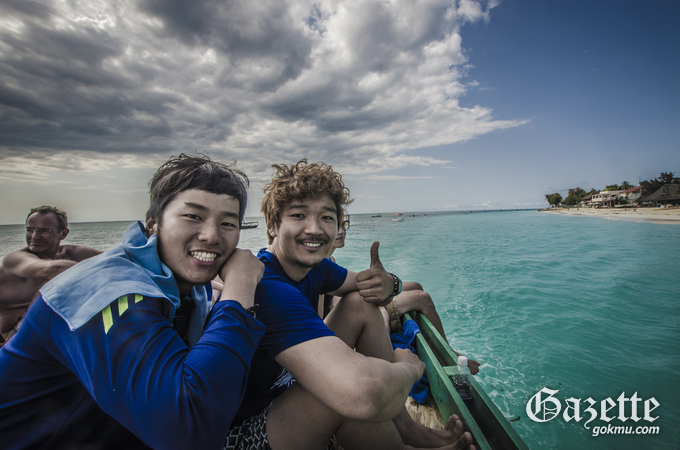 Lee Il woong and Lee Jung jin who traveled around the world for a year.
We live, having different goals and paths. Here are two special men who enjoy their lives. They traveled around the world and felt their experiences changed their lives. During that period, what did they feel and enjoy? I wondered about that and wanted to share their stories with readers.
1) Briefly introduce yourself.
Hello, we are William and Jace who love nature and motorcycles. We are currently in an English academy.
2) Why did you decide to travel around the world?
W) When I was in Australia, I felt so happy, experiencing new things like working and meeting friends. After that, I wanted to make some memories. So, I decided to travel around the world
J) When I was 20 years old, I found out what 'sick' means. I wrote a wish list. At that time, I thought about buying a motorcycle or traveling around the world. Finally, I decided to travel with William.
3) What was the most impressive event during your travels?
W) When we traveled in Nepal, there was big earthquake. Luckily, we met KOICA members and we volunteered with them. After that, we moved to Europe and I sold some of the pictures that I had taken in other countries, so I could earn lots of money. When I returned to Korea, I donated that money to Save the Children.
J) I really enjoyed taking some pictures and videos. Unfortunately, my camera, hard disks and laptop computer were stolen in the first country in Africa. I lost everything about the Africa trip. So, I went to the black market and police office. However, I couldn't find them.
4) How did you save money while traveling?
There are so many ways to save money. One of them is BlaBlaCar, which is a car-sharing app and service with travelers sharing car rides to save fuel costs. Next, there are free accommodations where we should work for 4-5 hours a day or offer something related with Korea culture or food. Last but not least, if you buy groceries at the supermarket, you can also save money.
5) Do you have something to recommend to our students?
If you have a chance, go on a trip during a vacation. After university graduation, even if you want to travel around the world, you can't do that due to working. We recommend that you enjoy it when you can afford it.