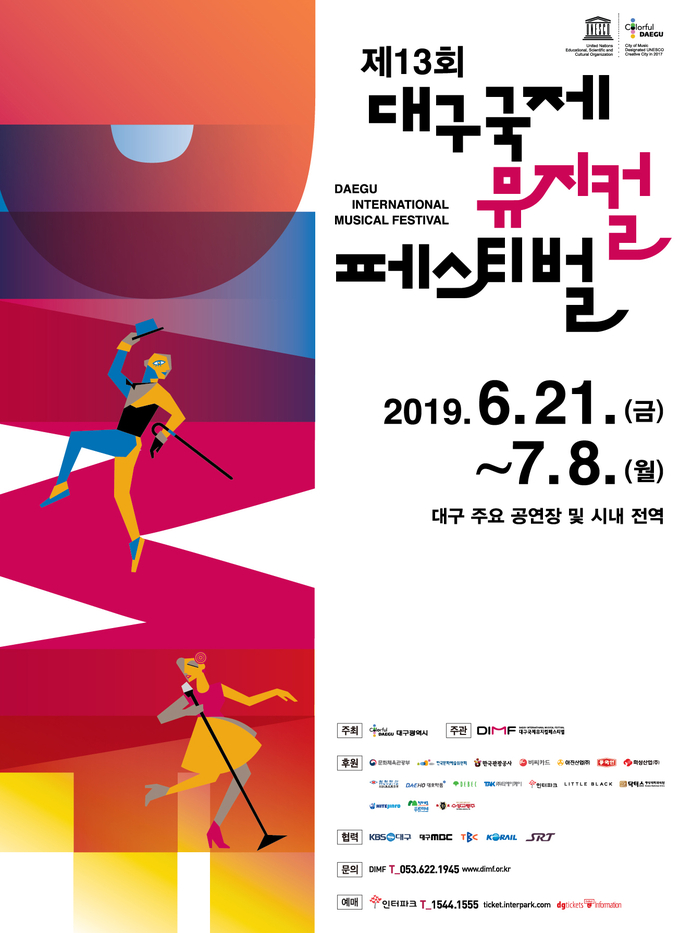 13th Daegu International Musical Festival
Date: 2019. 06. 29(Fri) ~ 07.08(Mon)
Location: Various theaters and the entire metropolitan area of Daegu
Website: www.dimf.or.kr

Daegu Metropolitan City is known as the Musical Metropolitan City from late June to early July because of the DIMF (Daegu International Musical Festival). DIMF is held every summer and features great musicals which usually can't easily be seen. Though DIMF, the British musical, Flash Dance, was premiered to Korean audiences in July of last year and its popularity has continued until this March.
This year, various international teams from Britain, Spain, Russia, France, China and Taiwan will attend along with the Korean teams. Although many people are interested in musicals, they often can't attend large performances because of the high price. However, audiences can see diverse musicals at affordable prices at DIMF. In addition, there is a program named College Musical Festival, which hosts musicals which are made by Korean college students, who are with future musical actors and actresses, and are all free.
Most plays are held at Daegu theaters like the Keimyung Art Center, Daegu Opera House, Bongsan Cultural Center, Suseong Artpia, Ayang Arts Center, while others will be shown at smaller venues throughout the festival. At DIMF, audiences can see not only musical works, but can join various programs which will be started in downtown and the Kolon Field Concert Hall (near Duryu Station) before the festival starts in late June. During the hot summer in the hottest city of Korea, called Dae-frica (Daegu + Africa), enjoy your summer vacation with an exciting musical festival.