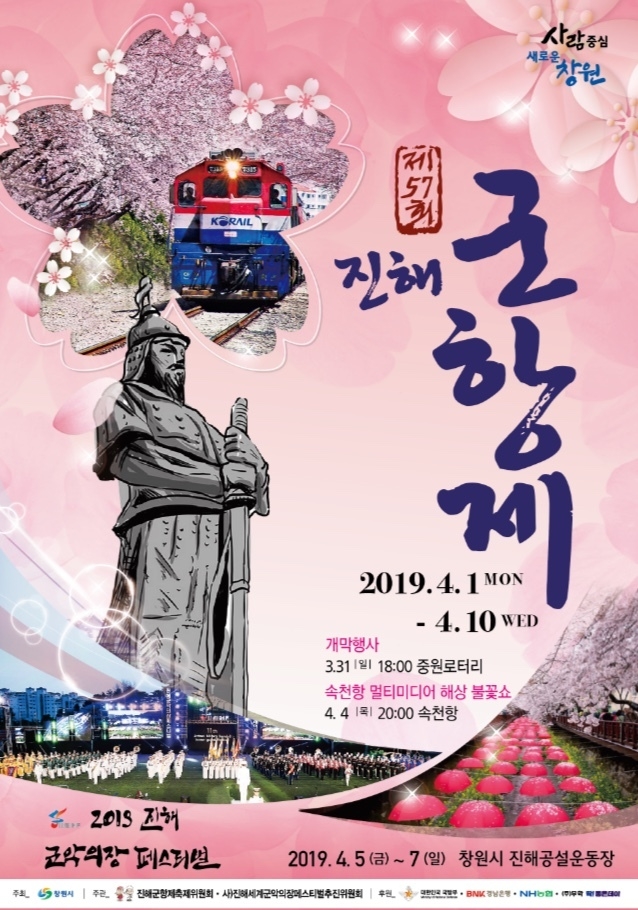 The cold winter was passed and the warm spring is coming with us. When spring comes, cherry blossom comes to our mind. There is a perfect festival for this spring. It is called the Jinhae Gunhang Festival. It is a festival held in Jinhae-gu, Changwon, South Gyeongsang Province, which is famous for the cherry blossom festival. Many people think of the festival as just a cherry blossom event. However, It was the beginning of a memorial service to honor Admiral Yi Sun-shin. In 1963, it was renamed as the "Cultural Festival" to continue the defense of country sprits and promote the promotion of culture and art. The festival is held for 10 days from April 1 to coincide with the flowering of cherry blossoms. The event will be hosted by the Changwon City and the Jinhae Military Port Festival Committee.
During the festival, you can see the Flowering Cherry (Natural Monument No. 15t6) that are widely spread throughout the Jinhae. This is widely known as the result of the last cherry tree-saving campaign. As much as that, there are many places in Jinhae that are harmonized with a cherry. First, recommendation places are the Geyonghwa Station and the Romance Bridge. A variety of decorations with cherry blossom stretched on both sides add to the atmosphere of 'Spring.' It is also a place where many people take pictures to make memories. In addition, there are special places such as the ecological park and Jangbok Mountain Park.
Taking pictures with beautiful cherry trees is also good, but there are events to enjoy only during the festival. It is available to enter the Naval Academy and the Naval Base Command, which is usually difficult for ordinary people. Also, visitors can enjoy a museum containing materials related to Admiral Yi Sun-shin and turtle ship. In addition, you can enjoy the parade of naval maneuvers held at the Naval Academy, and also you have the opportunity to board the warship.
I recommend you to go to this festival to make beautiful memories with people as much as the cold winter was passed and the warm spring is coming. You can enjoy flying around cherry blossoms and special events.