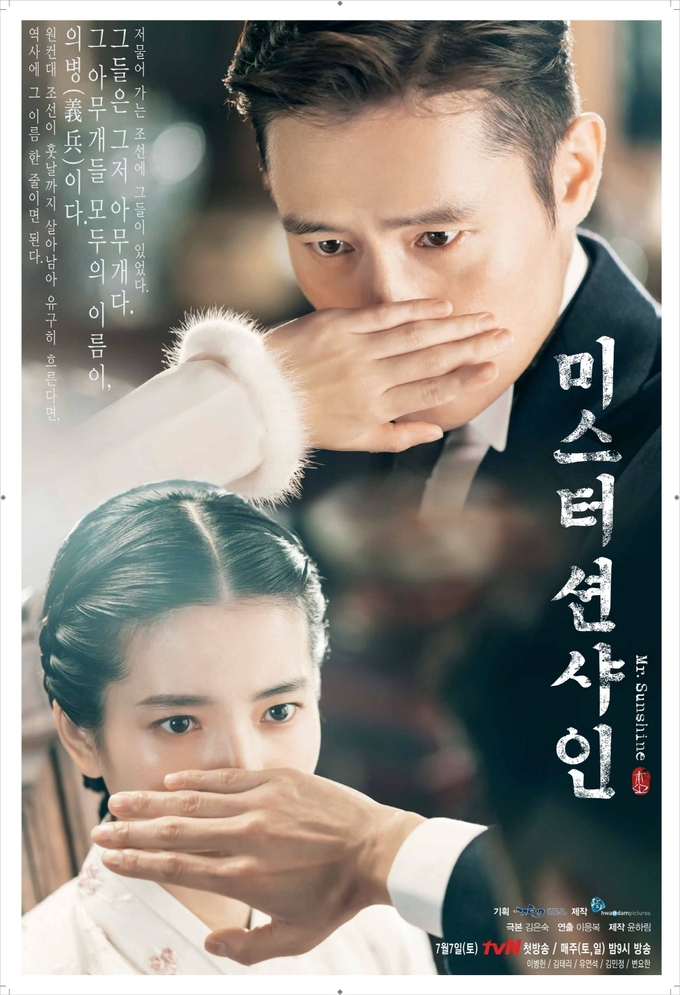 ●Director : Lee Eung-bok
●TV dramatist : Kim Eun-sook
●Episode : 24
●Release date: July 7,2018 - September 26,2018
'Mr. Sunshine' has had its series finale. The show gained a lot attention before it was even aired because of its amazing lineup and production crew. 'Mr. Sunshine' is a TV series which was broadcasted on Saturdays and Sundays from July 7th to September 30th, 2018. There are 24 episodes and is the third collaboration between TV dramatist Kim Eun-sook and director Lee Eung-bok, following their other collaborations: 'The Descendants of the Sun' (2016) and 'Dokkaebi' (2016). Lee Byung-hun, Kim Taeri, Yu Yeonseok, Byun Yo-han, and Kim Minjung star in this TV series.
'Mr. Sunshine' is a TV series that deals with a story which revolves around "Eugene", who was abandoned in the Joseon Dynasty, and "Ae-shin", who tries to protect the Kingdom from Japanese invasion. The series' background is the end of the Joseon Dynasty when the Korean peninsula was oppressed under Japanese Imperialism. It was a dark period during which many foreign powers including Japan seized many things from Korea and many innocent people lost their lives. The show depicts the many people who took action during this dark period, and they are considered loyal troops. They fought for the country without giving up, even under the difficult conditions. They were the people who gave their own lives for the nation under the name of 'loyal troops', although they knew they would not be able to leave their names in the history.
I hope this TV series becomes an opportunity to let people know about Korea's nameless loyal troops, along with the love story of Eugene Choi and Lady Ae-shin.