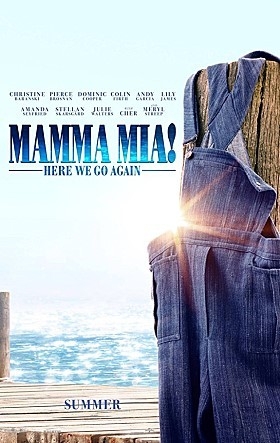 ●Director : Ol Parker
●Starring : Amanda Seyfried, Lily James, Meryl Streep
●Running Time: 114 minutes
●Release date: August 08th, 2018
One of the most popular films, Mamma Mia has released the second in its series in 10 years. In the first series, Dona's daughter, Sophie grew up with a single mother and wants to find a father. She finds 3 nominees for her father, but no one knows who the real father is?even the mother. The new Mamma Mia , Mamma Mia: Here We Go Again, is about Dona's (Meryl Streep) youth before Sophie was born and the meeting of Sophie's 3 fathers.
The Mamma Mia Series has received a lot of praise. The appearance of the 3 fathers was not common and is enough to arouse interest. However, the young characters also amazingly look just like the elders. In addition, although it is a romantic comedy film, the ending is always moving. It seems to be about 'finding a father' but is more specifically about 'a love between a mother and a daughter'. That's why lots of fans recommend watching it with one's mother.
Despite these reasons, some people cannot make sense of the film because the quantity of the main character, Dona. Many fans thought "Mama Mia! is Meryl Streep (Dona)" but Dona is rarely shown in the film, and many fans are disappointed by the second release. In addition, a probability is also quite lacking as no one said why and how Dona died, and why Sophie's grandmother and Fernando made abrupt appearances.
Some critics said it has too many common sequences, so it's better to watch the original film not the sequel. However, others have said, "It is a film like a textbook of emotional films with sweet old pop melodies." As everyone's thoughts are different, the reviews must be different. How about you: did you think it was good or not?