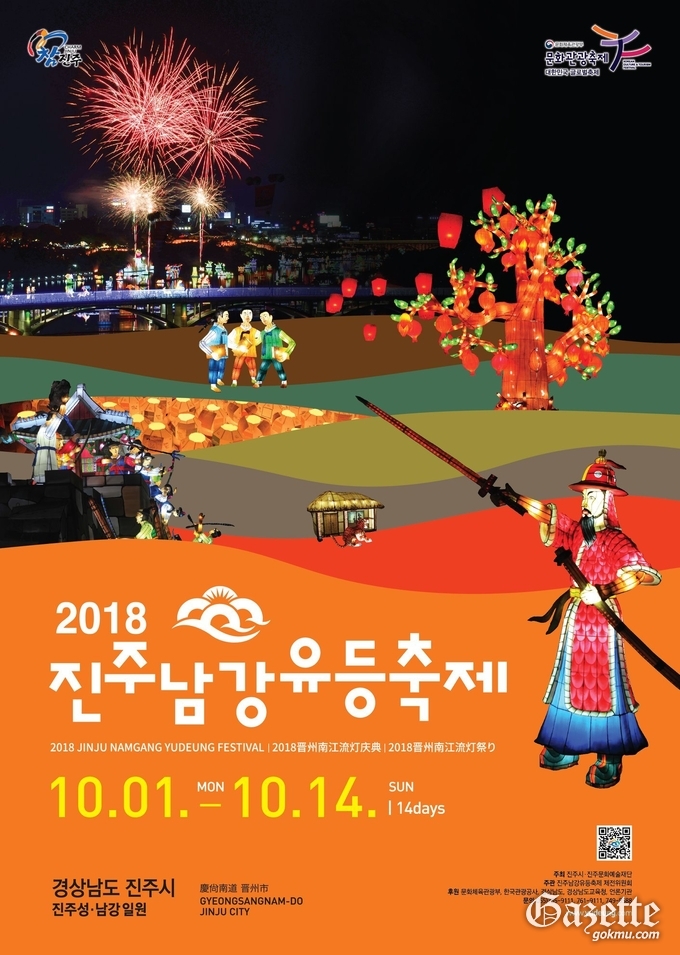 ●Location: PlaceAround Namgang
●Dates: October 01,2018 - October 14,2018
●Website: http://www.yudeung.com/
Have you heard about Yudeungs (Lantern) Festival? The Yudeung Festival in the Nam Gang River in Jinju originates from the Siege of Jinju during Hideyoshi's invasions of Korea which are considered as the greatest period of suffering for Koreans. Releasing lanterns to signal to the civilian resistance to Japan and rescue troops outside the castle was used as military tactics to prevent the Japanese army from attempting to cross the Nam Gang River. Moreover, it was used as a method to communicate between soldiers and civilians in the Jinju Castle and their families far away.
The Jinju Namgang Yudeung Festival was held in October 2000 for the first time, and was selected as an emerging festival in 2004, an excellent festival in 2005 and the best festival from 2006 to 2010. It was also awarded as one of Korea's representative festivals in 2011, 2012, and 2013. It has become a global festival which has been exported to Canada, and Los Angeles in the US.
The festival is held from October 1 to 14, for 14 days, on the Nam Gang River in Jinju. Linked with Korea's largest holiday, Chuseok, this festival hopes to enhance the local economy, harmonize traditions with the modernity of Korea, engage all five senses for experience and tourism for healing, and operate as a tailored festival. The festival which was a paid event for the last three years will become free this year so that everyone can enjoy and participate in the festival.