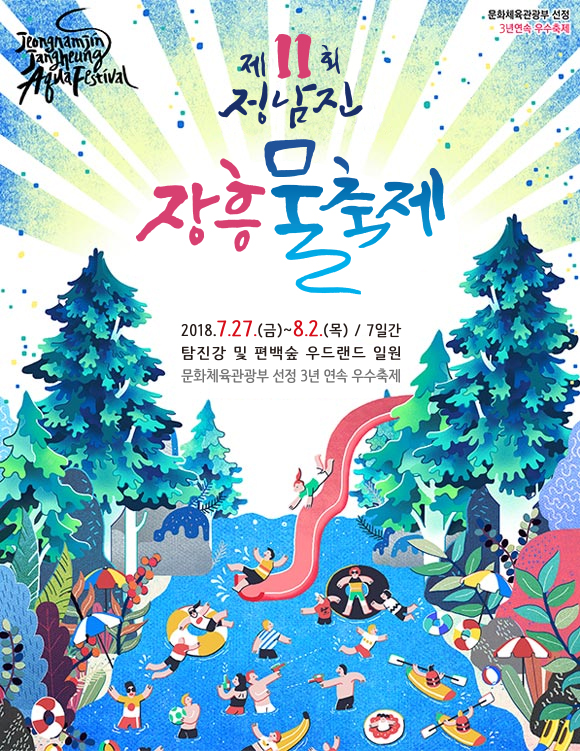 ● Location: Jangheung-gun, Jeollanam-do, around "Tanchon River"
● Date:July 27,2018 - August 2,2018
On a hot and dry summer day, water is precious and welcomed by people. To enjoy this summer and make good memories with your family or friends, please consider attending the Jeongnamjin Jangheung Aqua Festival.
The fesitval takes place for seven days from July 27 (Fri) to August 2 (Thu) 2018, and is located in Jangheung-gun, Jeollanam-do, around the Tanchon River and the Hinoki Cypress Forest Wood Land.
The Jeongnamjin Jangheung Aqua Festival have the theme of Clean Water Resources like Tanchon River and Jangheung Dam. A major aim of the festival is to educate people about pure nature and clean regions, and to increase of amount that tourism revenue contributes to boosting the local economy.
There are so many interesting special programs at this festival. For example, there are huge swimming pools and slides that will be upgraded from the previous year, and the popular event: "The Largest Water Fight on the Planet" which is open to all age groups. And, late at night, there is the "Water Pool Party" with famous a EDM DJ like at a club. There are many events, so this festival will be a great way to enjoy this summer.
You can feel excitement, romance and freedom in this festival. If you are tired of endless work or your own stress, you can relieve stress through this festival. Consider making a good memory in Jeongnamjin Jangheung Aqua Festival with your family or friends.
By Um Ji-min
KMG Cup Reporter
jimin7295@naver.com