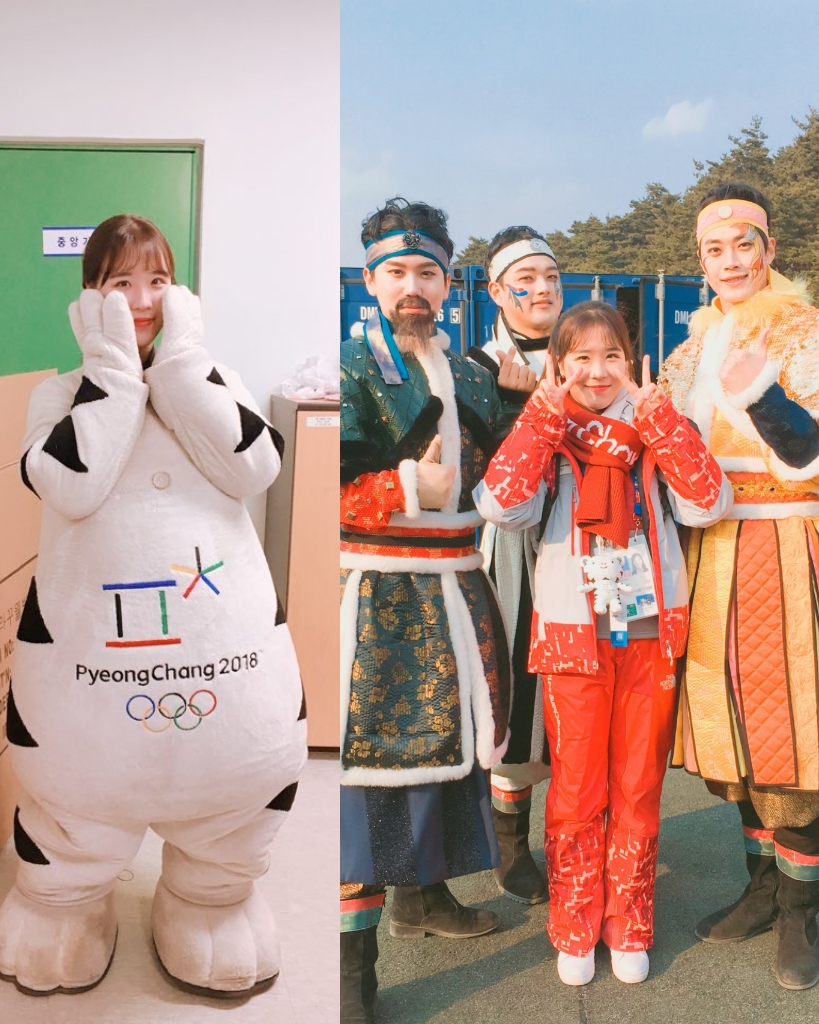 ● Park So-jung, a volunteer of PyeongChang2018
As everyone knows, the PyeongChang 2018 Olympic and Paralympic Winter Games recently finished. Everyone enjoyed the games thanks to athletes' performances and moving stories. However, there was another Korean national squad: not of athletes, but of volunteers.
1. Please introduce yourself.
Hi. I am Park So-jung, a volunteer at the Pyeongchang 2018 Olympic and Paralympic Winter Games and a university student from Bucheon, Gyeonggi-do.
2. Why did you decide to be a volunteer at the Winter Games?
I wanted to meet a lot of people from around the world and experience the Olympics myself, so I applied to be a volunteer through a promotion on a social network service. I thought it would be impossible to participate in a big, international event like the Olympics again in the future.
3. What did you do at the Winter Games?
I worked at both the Olympic and Paralympic Games, and each venue is different. At the Olympics, I worked as a member of CUL(culture). I was a safety guard for parade actors and the army bands to guide and protect them from the spectators. Sometimes, I had to wear a costume of the Olympic mascot 'Suhorang' and interact with spectators by dancing and taking pictures with them. On the other hand, at the Paralympics, I worked at the Guest Pass Center in the Paralympic Pyeongchang Village. I made temporary access cards for people who don't normally have the right to go inside the Village.
4. What difficulties did you have working?
When I worked as Suhorang, a lot of people liked me as Suhorang, so they gave me warm greetings. Unfortunately, when it was time to finish work, I couldn't easily leave because the spectators didn't let me. Sometimes, I used to miss my shuttle bus. When I worked in the Village, it was difficult to deal with someone who didn't have a right to get an access card. The security of the Village was the most important thing, so no one could enter without an access card. Also, a person can only get permission for an access card from a national team leader or a nation's government.
5. Before the Olympics, there were many rumors about the treatment of workers. What was your experience?
I think the news was highly exaggerated because some journalists wanted scoops. In my experience, everything was fine in terms of accommodations and meals. Of course, there were some errors, but in my opinion, the committee did its best. I was happy with that.
6. Do you think volunteering is more important than classes, money or anything else?
I can take classes again, go back university and earn money after the events, but the Olympics and Paralympics rarely come to South Korea. I am not sure I will ever be able to do volunteer work at other international events like the Olympics and Paralympics again. Moreover, volunteering at the Olympics allowed me to talk to lots of foreigners and be interviewed by NBC and BBC reporters.
7. What was the most impressive event during your time volunteering?
It is difficult to say because every situation is different and memorable and every day was new to me. Every moment is important and precious.
8. What was PyeongChang 2018 to you?
PyeongChang 2018 was a new adventure to me. I met a lot of new foreigners, experienced their cultures and languages, and made great memories every day. I am honored to have worked as one of volunteer staff members of PyeongChang 2018 and been a driving force behind a successful PyeongChang 2018.
By Seo Yu-jeong
KMG Reporter
seoyujeong98@stu.kmu.ac.kr