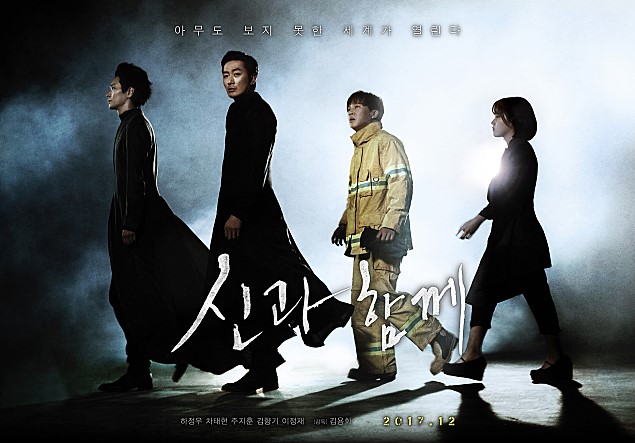 ●Director: Kim Yong-hwa
●Genre: Fantagy, Drama
●Starring: Ha Jung-woo, Cha Tae-hyun, Joo Ji-hun, Kim Hyang-gi
●Running Time: 139minute
Have you ever thought about the afterlife? When you die, where do you think you will go: heaven, hell or reincarnation? Or, are there other realities? Of course, we who have not died do not know. Recently, a movie was released whose theme is about the judgement in the afterlife. It is Along with the gods: the Two Worlds, and was shown at the 16th Korean film which recorded over 10 million viewers.
It was one of the most popular webtoons, and was turned into a film this winter. Along with the gods: the Two Worlds has one deceased person, 3 angels of death, and 7 gods of Hades. The 7 gods judge the deceased on various areas of ethics, such as murder, indolence, untruth, injustice, betrayal, violence, and filial piety. Whoever passes all the areas can make it to heaven or rebirth. Perhaps, it seems to be easy to be approved but one has to worry about sins in spite of oneself. Regardless of your intentions to deceive, the gods know all about your life including what you don't know and remember. For example, in the pit of hell of murder, the Grim Reaper says, "Don't run your mouth and keyboard". This is because you may kill unintentionally and be responsible for someone's death. The sins that only you know in this life are punished at the underworld by the omniscient and omnipotent gods.
Do you know that this story is not the pure creative work of the writer, but originated from a Korean traditional view of death? The story comes from not only King Yeom-ra, who is the most popular god of death to us, but also from 6 other gods that exist in Korean tradition. And the ways to punish sins are also quite similar to real traditional fairy tales.
Are you sure you can go to heaven easily? If you aren't, which hell will seize your ankle to prevent you from going to heaven? According to the laws of the World of Death, there is no right to judge sins forgiven. For your afterlife and someone's current life, you must ask for sincere mercy before it is too late.
Seo Yu-jeong KMG Reporter
seoyujeong@stu.kmu.ac.kr