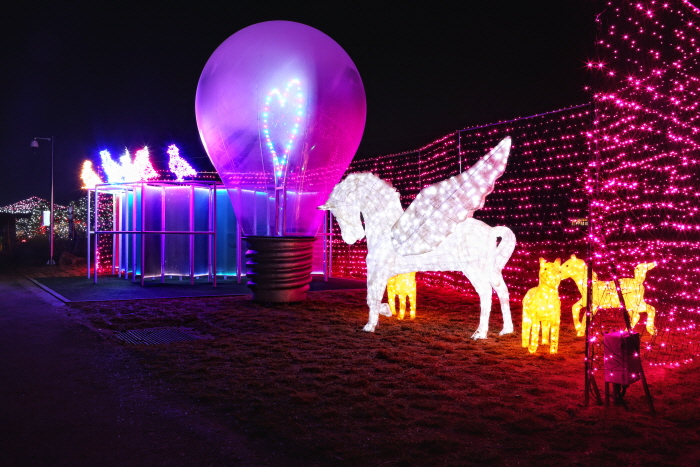 Location : 929, Garakbon-dong, Gangseo-gu, Busan
Date : 2017.11.1 ~ 2018.12.31
There is an amazing place that you probably haven't been to yet in Busan. If you are interested in a night festival, I would like to introduce the Busan Illumia Light Festival. The Busan Illumia Light Festival is the biggest light theme park in Korea. The festival period runs from November 1, 2017 to December 31, 2018 all year round. The Busan Illumia Light Festival provides a spectacle of light festival that has never been seen until now. The festival includes various events and programs.
One of the events is a lighting festa where special lighting directing is remarkable. The lighting festa is a multi-video show that includes a media-facade, moving-light, gobo-light, water-screen video, sound, and laser special effects. Another event is the dream lighting festa which is a story telling video titled communion of light spreading out with awesome music and colorful special lighting. There is also an imagination-playground reaction experience that visitors can experience directly as well as a heart-road that heals tired people with warm cheers and messages of love. Various lighting direction objects are harmonized with colorful lighting throughout the park so that visitors can take beautiful pictures anywhere in the park. As a program, there are moving light shows and water screen shows. Furthermore, as a unit event, there are diverse special performances by invited signers from the 1970s and 1980s, as well as buskers and a few other events.
The Busan Illumia Light Festival can satisfy all spectators from families, to couples, friends, and so on. If you have a chance, visit this fantastic place and leave with great memories. If you want to know more information about Busan Illumia Light Festival, visit the website at www.illumia.co.kr--it provides more info about an admission, discounts, etc.