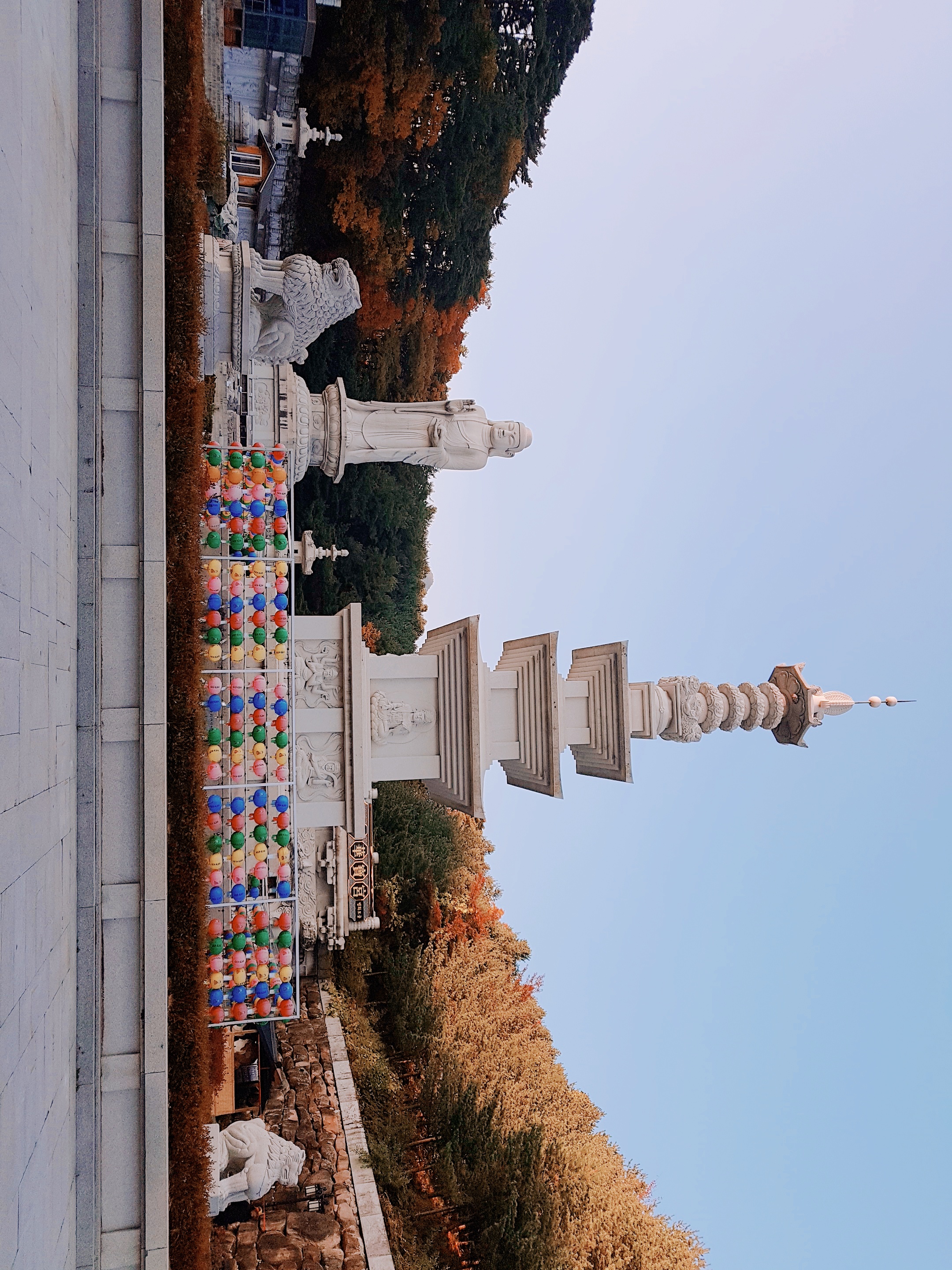 Palgong Mountain is a famous tourist attraction with beautiful scenery which attracts visitors from all over the nation. All the year over this mountain boast of charming views. Among the various seasons, fall is the best time to visit because the beauty of the mountain reaches a peak during the color changes of the trees. So, we would like to recommend going to this mountain. If you are enthusiast of hiking, you have to pay attention to this article.Since the Silla Dynasty period, Palgong Mountain has been a multi-cultural center as sacred place. Although Buddihism was prohibited during the Joseon Dynasty, this mountain was protected by Joseon Kingdom which is why many heritages have remained without any damage to this day. Like this, traditions have remained including many temples and the blossoming Buddhist culture. In short, Palgong Mountain represents the concise core of Buddihist faith.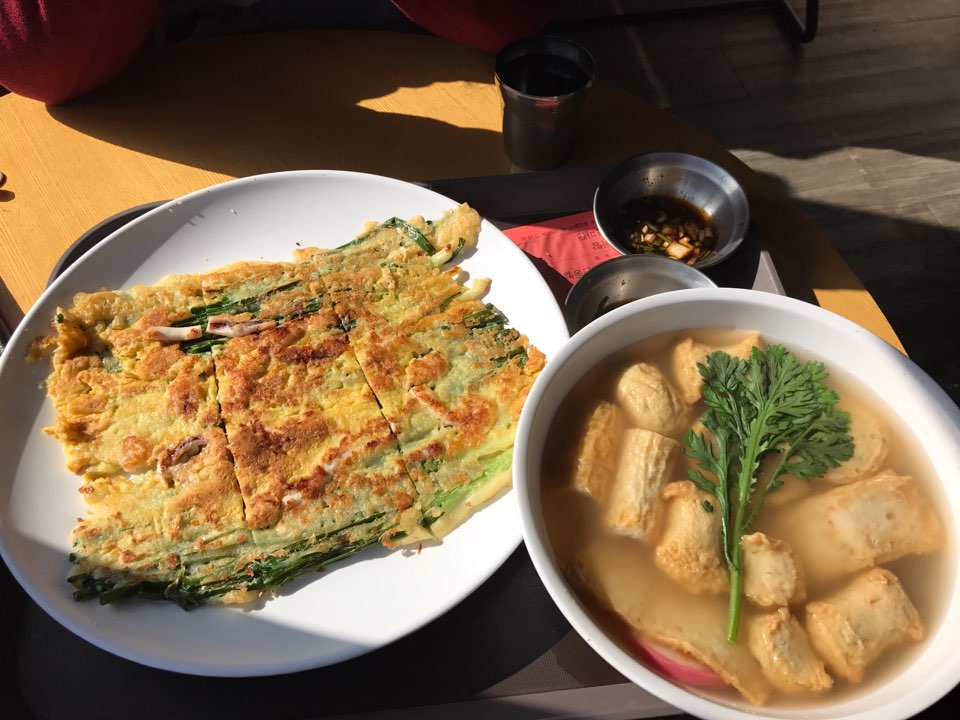 We took a bus and walked uphill about 200m and we arrived at the cable car entrance and ticket office. There were many visitors who were taking a trip to enjoy the autumn colors. You can use this cable car by paying 9000 won per person and for a round trip. Before you go to take the cable car, check the announcement on homepage and remember that it doesn't operate on Mondays. While taking the cable car up the hill, the mountain surrounded us and hugged us with colored leaves. While taking this cable car, we took many beautiful pictures and videos to remember this moment. It takes about 8 minutes to arrive at the peak of mountain. Eventually we arrived at the peak and looked at the view of the spacious nature. That view was very grand and made me heal my tired mind. Many people seemed to enjoy the leaf excursion with their family, friends, hiking clubs and boy or girlfriends. Because this mountain is famous all around the nation, residents from other areas visited the mountain as well. Following seeing this view, we had lunch in the restaurant at the top. The popular items on the menu in this restaurant were dongdongju and pajeon. Dongdongju is a popular Korean rice wine. This wine is more delicious while eating pajeon which is called Korean pancake and is made of green onion and some seafood. We ate pajeon and fish cake soup. It was delicious. After eating lunch, we declined to go down. Nearby the peak of the mountain, there were routes for forest therapy that makes visitors feel healthier and heal with phytoncide.After the cable car, we went to Donghwasa, which is one of the representative temple of Palgong Mountain. It was first called Yugasa, but the name was later changed to "Donghwasa" because the royal foxglove trees bloomed fully around the temple even in the winter of 832. Donghwasa temple features the 33meter high Tongilyaksadaebul, a great Buddha statue for reunification of the divided Korean peninsula, which was built in 1992 to pray for a peaceful reunification of Korea. In addition, the museum displays various collectors and holds exhibition.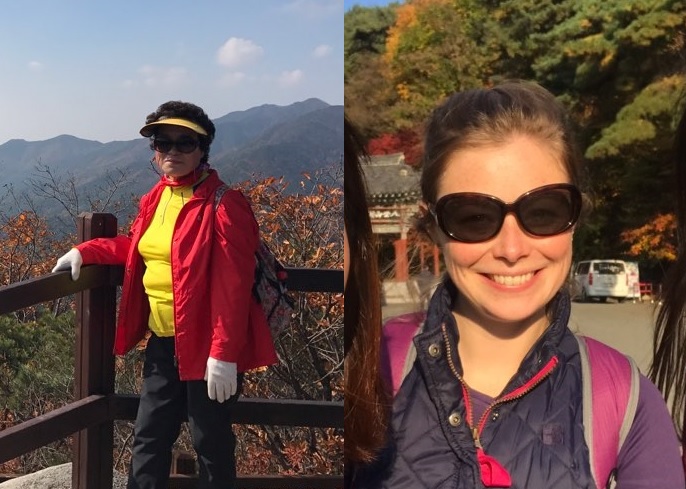 Interview with a hiker to Palgong Mountain
1. Why did you choose to climb Palgong Mountain?
I really like to travel alone because I can save time and money, but I don't really like hiking. However, I wanted to see a beautiful view on a mountain this fall, so I decided to come here. And, I really enjoyed the last time I came here.
2. What is the most attractive aspect of Palgong Mountain?
I think this mountain is the perfect destination, especially for people who don't like hiking like me. Because we can go up the mountain by cable car, we can see the view on the top of the mountain easily. Also when the sky is clear, I think that the autumn colors of Palgong Mountain are more beautiful than any other mountain in Korea.
3. Would you recommend Palgong Mountain to other people?
Of course! I would definitely recommend this Mountain to people who want to enjoy the autumn foliage. When I came here before, I met various people from not only other cities but also different countries. I want to let people know that Palgong Mountain is more than just a mountain so that many people visit this mountain and the other places around here like Godbawee, Dongwhasa and Pagyesa.
Interview with a foreign visitor to Dongwhasa
1. Have you ever visited Dongwhasa before?
Yes, I am from England but I am living in Daegu now. I live near Dongwhasa, so I usually go up to valley of Palgong Mountain and walk down to Dongwhasa for hiking. Because I hike every weekend.
2. Do you want to recommend Dongwhasa to the other foreign visitors to Korea?
Sure, I would recommend this place, because there are so many things to see. I have hiked here five or six times before, but I walked different trails every time, so I could see a big temple, many waterfalls, and beautiful autumn leaves here. They were all so wonderful. I am a English teacher in Daegu Jimyo Elementary school, so I hope my students can visit he as soon as possible, so that they can enjoy the autumn.After reading this article, do you plan to go to Palgong Mountain during the winter vacation? While you study hard, you may be stressed while preparing for final exam, so why don't you go to hiking with friends and heal in nature?
Jang Han-yi KMG Junior Reporter
jhy98hany@stu.kmu.ac.kr
Seo Sang-ah KMG Junior Reporter
ssa06062@stu.kmu.ac.kr