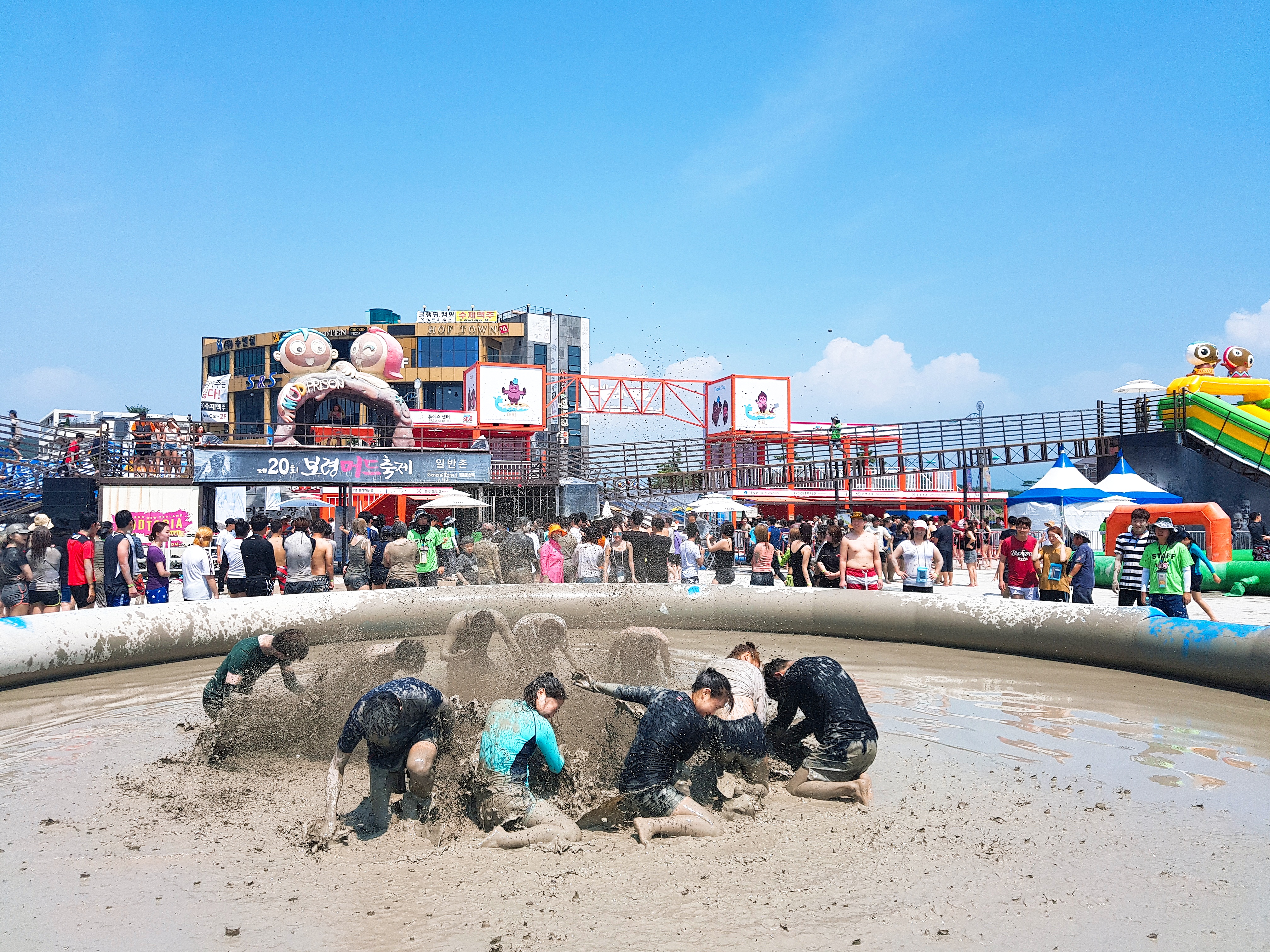 There are so many local festivals in Korea that it can be hard to choose where to go in summer. I am sure that Boryeong Mud Festival is one of the most popular festivals. This festival is held every July, around Daecheon Beach in Boryeong and 2017 is the 20th anniversary. Boryeong Mud Festival was selected as a representative Korean festival in 2008 and more than 10,000 foreigners visit Boryeong Mud Festival every year.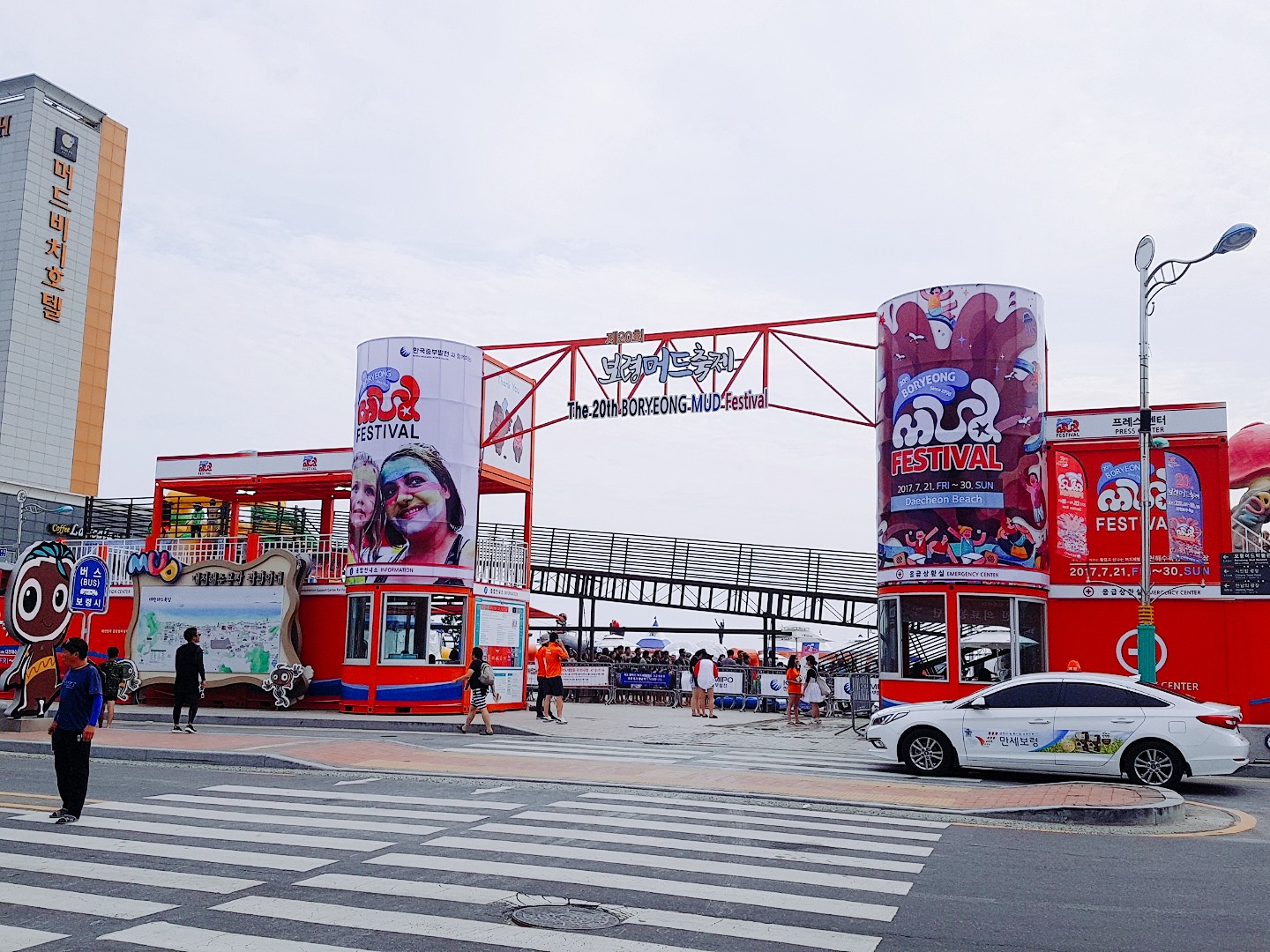 The hero of this festival, the mud from Boryeong is made of sea mud from a pure mud flat in Daecheon Beach. It contains not only minerals, but also nutritious ingredients that are effective at hydration and removing waste matter and sebum from our skin. In addition, Boryung mud is good for blood circulation and treatment for an atopic dermatitis, which is why it is widely known that Boryeong mud is very good for skin care and health.
The biggest distinctive feature of the Boryeong Mud Festival is we can feel the mud with our whole body. The festival is divided into an adult zone and kids zone. In the adult zone, there are 'mud catching tails' in which two teams try to catch the other team's tail in the mud pool, as well as 'mud wrestling' in which people fight in a mud ring. The losers from these games have to get covered with mud. Also, there are two 'mud slides' which are quite huge, and you can fall into mud water. On the side, you can also compete in a 'mud obstacle race', but if you get into the mud water once, you fail this race.
Further, you can see a stage which is installed on the beach outside of the mud zone. People can enjoy the water show during the daytime, and watch performances by famous singers and singing contests at night. But If you want to have fun, you need to be aware of the concert schedule in advance. It is easy to find comforts near the event location such as shower room, locker room and convenient stores. In addition, around the mud festival, you can also visit Boryeong Mud Museum and theme park, and taste various kinds of sea food.
Jang Han-yi KMG junior reporter
jhy98hany@stu.kmu.ac.kr
Interview
● Neda, an exchange student from Iran
1. Please introduce yourself.
I'm Neda from Iran. I came to Korea to study as an exchange student at a university.
2. What makes you join Boryung Mud Festival?
Actually it is my second time to come here. I came to this festival this time from my university with my friends, most of who are exchange students like me. It is a good chance for foreigners to experience Korean culture and regional characteristics. We started summer vacation, so we came to this festival. Well, there is a saying 'A thousand hearings are not worth one seeing'.
3. Did you enjoy this festival? And please tell me its pros and cons.
I really did. It was a lot of fun. As I said, it is second time to come here but it is always a new and exhilarating experience. There are many advantages. First, we can meet lots of foreigners at this festival. It is great time to make new friends, not only foreigner but also Korean too. And it is not easy to go somewhere like waterparks or other amusement parks as foreigners because there are some limitations. But this festival is such a hot place that there are so many people from other countries. This is the fact makes me go there without hesitation. And then, there are sanitary and nice shower rooms and locker rooms. I like it. I think there is one drawback. The long and crowded waiting lines need to be supplemented.
4. If you recommend this festival to someone like friends or family etc, what would you say about this mud festival to them?
I have friends to recommend and go with this place and will say to my friends and someone, it is a really amazing place to have fun and it can be a really perfect day, so, 'Gachi gayo. (Let's go together)'The Boryung Mud Festival goers consisted of about 50% Korean, and 50% from other countries. This development occurred as the festival received attention from foreigners as well as Koreans because Boryung-si makes the best use of regional own characteristic and marketing strategies. Every summer festival goers can attend this popular and fantastic mud festival in Boryung, a city in South Chungcheong Province. In hot and humid weather, how about going to head to Boryung if you want to make a unique, new experience and novel recollection!
Seo Yu-jeong KMG junior reporter
seoyujeong98@stu.kmu.ac.kr